This is something that's been percolating in my head for a while, and I thought I should post it before the Wally West conversation becomes totally dominated by this week's Flash Annual. This isn't about the New 52 version, but about the two decades in which Wally West was DC's primary Flash, and how that relates to Barry Allen and the "ownership" of the Flash identity. I've seen it suggested that legacy characters like the post-Crisis Wally West are like stalkers or identity thieves. It's probably no surprise that I don't see it that way.
What's in a Name?
The way I see it, there are two kinds of super-hero identities:
Who you are.
What you do.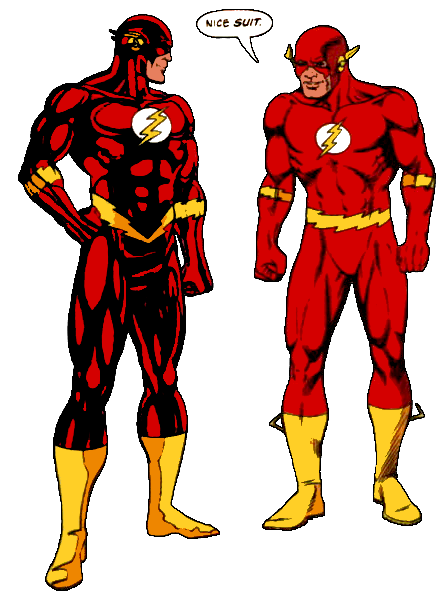 For Bruce Wayne, Batman is who he is. It's the way he deals with his childhood tragedy. While Dick Grayson as Batman is interesting, he has less of a personal connection to the mantle than Bruce does.
Green Lantern is what Hal Jordan does. For Jay Garrick (at least when he's younger) and Barry Allen, the Flash is less who they are and more what they do. Bart Allen? Impulse is who he is (pre-Flashpoint, anyway), and Kid Flash is what he does. (If you think about it, "Kid X" almost invariably implies a "What you do" identity, because kids grow up.) Arguably, being the Flash is more a part of Wally's personality than it is of Barry's, which is built more around his scientific outlook.
"What you do" identities can be passed along a lot more easily than "who you are" identities. They're careers, businesses that can bring on a partner and move on to a successor. That's why we've got four-plus in-continuity Robins (DC even referred to the Robin identity as an "intern program," which fits perfectly)…but Batman successors in the present day (i.e. not Beyond) always hand the cowl back to Bruce within a year or so.
Succession
My take: Wally West didn't steal his uncle's identity. He inherited the family business.
Imagine the Flash Detective Agency, with Barry Allen as sole proprietor. He brings on his nephew Wally West as an assistant, shows him the ropes, takes him on as partner, and when Allen meets his untimely end, West steps up to keep the agency going. He takes over any open cases that Barry was working, sees a lot of the same clients, inherits a cell phone full of contacts (some of whom will talk to him, some of whom won't)…and also inherits a lot of the enemies that the Flash Detective Agency has made over the years. Like anyone taking over an existing business, he'll do some things the same and others differently. He'll lose some old clients and win over new ones. He'll make new enemies. And eventually he'll make the business his own.
This is a bit more literal for Jesse Quick, who inherits QuickStart Enterprises from her father as well as taking on a variation of his superhero identity.
Or to take a non-comic book example, it's easy to imagine that Veronica Mars will one day take over her father's detective agency for good. That won't make the agency any less the real Mars Detective Agency, nor will it make her accomplishments any less valid. The same goes for Wally West as Keystone/Central's resident super-speedster.
Of course, the chances are rather slim that Keith Mars will come back after 20 years, take back the business, put Veronica on receptionist duty and then rewrite company history without her presence…