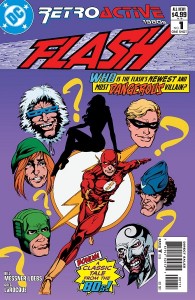 Apologies for the lateness of this review, as I've been somewhat unwell recently. My lateness certainly had nothing to do with disliking the issue! I enjoyed it very much, as it was a lot of fun. More details and mild spoilers after the cut.
Of all the positives in this issue, the aspects I liked best were a) the Golden Glider kicking ass, and b) the story was actually fun, with a few humourous lines that made me smile. For the most part modern DC comics tend to be lacking in the fun department, so maybe it isn't surprising that it took a Retroactive issue to bring some back for a bit. Of course not all stories should be silly or lack gravity, but it seems that outside of children's comics, modern DC has forgotten it's possible to have fun at all (Marvel is better at this). Here the Rogues get all the best lines, which is a nice harkening back to the days before they became dark and serious.
People who have read my review of Citizen Cold #2 or the opinion piece on the handling of the Golden Glider are aware I don't like the way she's been portrayed over the past decade. Fortunately this issue doesn't have that problem at all; writer William Messner-Loebs clearly remembers how he used to write her back in the 1980s, which was tough and playful and a bit crazy. Honestly, this is my favourite aspect of the story, and a welcome relief. Fans of Wally West should enjoy the issue too, as it's a chance to see their beloved character — written by one of his more popular writers, no less — before he returns to limbo again. It's really unfortunate that some of us only get stuff to please us in a oneshot Retroactive issue, rather than, say, appearing in an ongoing series.
Greg LaRocque's art is highly reminiscent of his classic `80s style, which is nicely appropriate for the story. I've never particularly liked the way he draws Captain Cold, but he's always done a great job on everyone else, and continues it here.
The most unusual problem with the issue is a number of colouring errors, which badly mix up Mirror Master's and Trickster's costumes, and give the normally red-headed Piper dull brownish hair. And speaking of Mirror Master, his presence is a huge continuity mistake; Sam Scudder died around the time Wally became the Flash, while Evan McCulloch wouldn't hook up with the Rogues until a number of years after his debut. It might be an understandable error, but it immediately jumped out at me and some of my Rogues-geek friends.
The choice of reprint included with the story is bizarre as well; it's the last part of a random storyline, and not especially memorable. It doesn't have any of the Rogues who appear in the modern story, in case someone might want to read an adventure from their past — perhaps we should be grateful that it at least features Wally and was written and drawn by the same creative team. The reprint's issue number is only included as part of the indicia in tiny print on the very last page, so otherwise the only way anyone would know what issue it is would be if you recognize the story or can look up "The Adventures of Speed McGee, Part 3" (Flash v2 #18, for what it's worth).
The newly-written `80s story is great fun, and a pleasant surprise after the 1970s Flash issue, which regretfully I didn't much enjoy. Messner-Loebs and LaRocque clearly haven't let their skills get rusty, and it'd be nice if they had more work published these days. I'm glad to at least have this.
DC Retroactive 1980s: The Flash
Story by William Messner-Loebs
Art by Greg LaRocque
Share