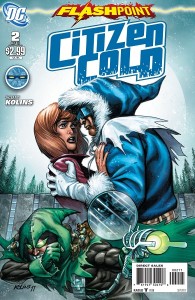 Citizen Cold #2 is fairly different from the previous issue; for one thing, it's notably more action-oriented, and this sets a disparate tone. I enjoyed it, but not as much as the last issue. See below the cut for spoilers and more details.
The tension is ratcheted up considerably in this issue, arguably making it more exciting. But this same tension has a downside, resulting in several deaths, some possible deaths, and varied serious injuries. Wally West is confirmed dead, Lisa Snart killed, Citizen Cold severely wounded, and the rest of the Rogues may be dead or injured. It's a grim tally, and having many deaths is something I was hoping would be avoided in this series, as alternate universes are notorious for employing high body counts. We know these deaths won't stick, as at least some of the dead Flashpoint characters are alive in the September relaunch, but does anyone enjoy reading about mass deaths? This is of course not unique to the Citizen Cold series, as it's in all the Flashpoint titles I've read, but the first issue was so enjoyable that I was hoping we wouldn't get a lot of it here.
However, my biggest disappointment with the issue is the portrayal of Lisa Snart. In the past I've grumbled about the way Geoff Johns and Scott Kolins depicted her in regular DC universe flashbacks — generally more of a victim than the capable supervillain she always was. And it's true that here in the Flashpoint world she's a different person and never took up a costumed identity. Regardless, I'm still dismayed to see Kolins portray her as purely a victim in Flashpoint — she puts up with years of abuse, cries and pleads a lot, gets kidnapped by bad guys, and ultimately murdered. The only agency she shows in the entire Citizen Cold series is shooting her abusive father, which is pretty much overshadowed by all the tears and terrible things happening to her. Even if she had to die for the sake of the story, I would have liked to first see her stand up for herself against the Rogues.
That said, I did enjoy the issue. Trixter's over-the-top yapping was fun again, and Cold flirting openly and awkwardly with Iris is both amusing and cringe-inducing in a good way. He's always been creepy about pursuing women since the Silver Age, and though we don't see it in modern comics, it's a reminder of why he sticks with prostitutes in the regular DC universe. At the same time, there's the interesting contrast between regular and Flashpoint Cold; one is an unabashed criminal with a set of morals, and the other pretends to be a hero but behaves worse than his villainous counterpart. Apparently the absence of the Flash not only left a vacuum in Central City for Cold to become its 'hero', but also meant there was no positive influence to make him a better person.
The artwork situation is very similar to the last issue; it's Kolins' familiar style and done well, although again the colouring is murky and dark. This dark colouring makes the action somewhat difficult to follow in places, notably the scene in which Piper encounters the ice-duplicate bomb. And again there's some of that strange underlining of words in the lettering, which I find slightly distracting.
I look forward to issue #3, but hope it won't involve many deaths. However, I suspect there will be a final showdown between Cold and Piper (who probably survived the cliffhanger bombing) and possibly another character or two believed dead, and it will likely be bloody. Iris probably won't fare well either. As with any alternate universe, we could easily start a betting pool on who will live and who will die, a sign that comics in general should probably end this cliché lest the industry implode any further. Why not surprise us and give a (relatively) happy ending for at least some of the characters?
Flashpoint: Citizen Cold #2
Story by Scott Kolins
Art by Scott Kolins
Share