Salutations Speed Readers,
Comic Book Resources (CBR) released the first pictures of Wave 2 of the offshoot brand, DC Universe All-Stars to be released later next year in an interview with Associate Marketing Manager for DC Universe, Young Justice and Superman Danielle McLachlan, Mattycollector.com Marketing Manager Scott Neitlich, Batman Associate Marketing Manager Derick Deller and Warner Bros. Marketing Manager John Friberg.
Mattel announced a few months back that as of Wave 20 (featuring White Lantern Flash and Professor Zoom) DC Universe Classics will no longer be sold at retail. DC Universe Classics will instead become Mattel's DC Universe Club Infinite Earths Subscription program. They will continue to release more varied characters from the rich history of the DC Universe using the subscription while their new retail line, DC Universe All-Stars is Mattel's attempt to keep familiar characters in the store that parents will be more likely to recognize. Essentially any figure with a 'Bat' an 'S', or a 'Lantern' on it, as opposed to that "funky guy with the bandages" and 'Captain Freeze' that mom likely knows nothing about.
Mattel's new 52 Flash: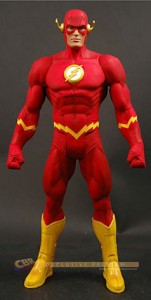 Not the largest picture, but we can see most of the details that we need to, including the fact they definitely skimped on the details with these figures as opposed to the DC Direct Prototypes we saw a few months back: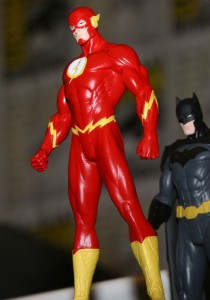 Mattel seems to be going for a less artist specific look than DC Direct which is usually the case. The result of which is the Mattel version looking more like Wally West than the new Barry Allen. I'm also seeing much more detail on the DC Direct version of the figure with the inclusion of the chin strap, modified wings and lightning accents on the torso. Mattel nailed the boots and raised emblem but missed the mark on the mask and wings. Hopefully both of these prototypes will see some changes before their final releases.
What do you guys think of the prototypes so far? Will you be picking up Mattel's version of the Flash, DC Direct's or both? Let us know in the comments below and as always thanks for reading,
Share