Salutations Speed Readers,
Through a flyer being circulated at comic book shops all over the country by DC Direct, we have our first look at what looks like the completed DC Direct New 52 Flash action figure: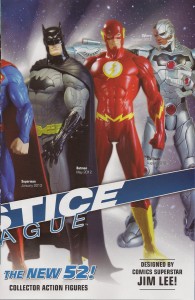 Yesterday afternoon, the great folks over at TNI scanned a copy of the flyer and posted it to the net so a very special "Thank You" to them.
As we all know the figure is based on the designs of comics legend and DC Comics co-publisher, Jim Lee and from what we can see here the figure seems to be pretty comic accurate. The boots look super detailed with plenty of lines on them to make Flash faster than all the rest.
The one thing that I'm noticing being omitted on this and the upcoming figure from Mattel are the electric lines on the costume: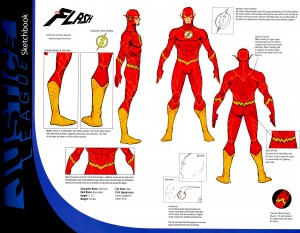 As you can see in Francis Manapul's concept art for the Flash from Justice League #4 he describes electric seams that light up whenever Barry's speed is being used. I don't see much practical use for this but I guess it looks cool to some people. It also seems like a natural extension of all the lightning around Flash when he runs and makes for a neat visual effect when utilized properly:

Looking at the level of detail on say Batman and then looking at Flash (especially compared with the above pic) he looks a little skimped on. I wonder if they attempted something like the electric seam but it came out looking off? But even the first prototype pictures lacked them so really who knows? Variant possibility down the line perhaps?
Along with the pics of the Flash comes a release date of August 2012. Which looks to be smack dab in the middle of the rest of the dates, and luckily not one of the later releases (Superman comes in January of 2013!). Still a little far for such a hot in demand set of action figures, and I'm really not understanding the nine month release schedule. In the past DC Direct has released waves usually in sets of four. I wonder if this is a permanent change to the wave format or just an isolated incident. Still happy to be getting it sooner than later.
In any case the figure still looks pretty solid and as mentioned by several fans here and elsewhere, he would make a great Wally stand-in. I'm still finding it difficult to support the New 52 fully but I'm warming up to it slowly. I'm still on the fence about picking it up myself, but more than likely I will end up getting it.
What do you all think about the the final figure and release date? Who plans on picking this bad boy up and who doesn't? Let us know in the comments below.
Thanks for reading,
Share