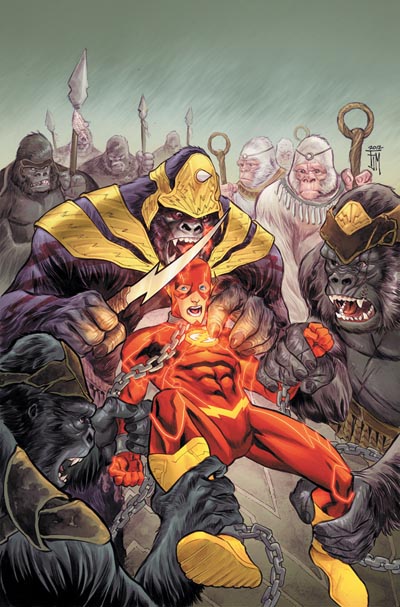 THE FLASH #9
Written by FRANCIS MANAPUL and BRIAN BUCCELLATO
Art and cover by FRANCIS MANAPUL
Variant cover by TONY S. DANIEL
1:200 B&W Variant cover by FRANCIS MANAPUL
On sale MAY 23 • 32 pg, FC, $2.99 US • RATED T
• Continuing the debut of GORILLA GRODD in DC Comics – The New 52!
• THE FLASH travels to GORILLA CITY for the first time!
• Who are the "RUNNERS" – and what do they mean for THE FLASH and the SPEED FORCE?
Big thanks to Collected Editions for their always eagle-eyed approach, which spotted this listing for The Flash Omnibus by Geoff Johns Vol. 3.  The hardcover collection is due Sept. 4.  More to follow on the expected contents of this 640-pager.
DC's May Justice League solicitations are up at The Source.  Flash fans looking for Jay Garrick should check out the solicit for EARTH TWO #1 after the jump…
EARTH TWO #1
Written by JAMES ROBINSON
Art by NICOLA SCOTT and TREVOR SCOTT
Cover by GREG CAPULLO
1:25 Variant cover by IVAN REIS and JOE PRADO
On sale MAY 2 • 40 pg, FC, $3.99 US • RATED T
• First issue of an ongoing series from writer JAMES ROBINSON and artist NICOLA SCOTT!
• Who are the heroes of EARTH 2 – and what befell them?
• Starring ALAN SCOTT, JAY GARRICK and many others!
• You may think you know Earth 2…but this is DC Comics – The New 52, where anything can happen!
• Don't miss the extra-sized debut issue!
Garrick does not appear on the variant cover, which was included with the solicit.
Full listings, including upcoming collections, will be forthcoming.
Share