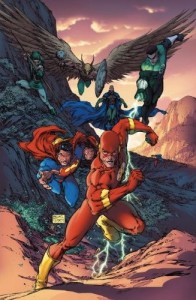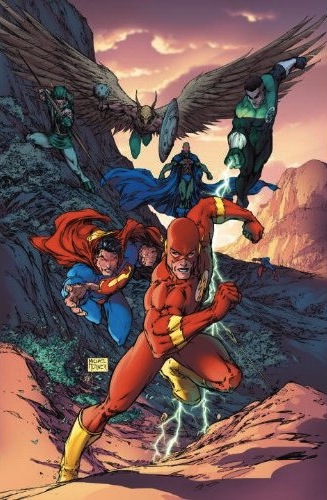 Collected Editions made a discovery on Amazon.com this morning: The Flash Omnibus by Geoff Johns Vol. 3 is available for pre-order with a September 4 date, meaning it will most likely arrive in comic stores the last week in August. (Amazon gets their new releases on the Tuesday bookstore schedule, not the Wednesday comics schedule.)
What's surprising about this is that volume 2 isn't out yet (it's due in April), and there was a full year's gap between the first two volumes of the massive hardcover collection.
Volume 2 runs through issue #200 of the Wally West Flash series, completing the Geoff Johns/Scott Kolins run on the book. This will pick up with Alberto Dose's "Ignition." If the page count on this book is anywhere near the 640 quoted in the listing, it will easily cover Flash #201-225, including the entire Geoff Johns/Howard Porter run on the series. Highlights include a Superman/Flash race (pictured here in Michael Turner's cover); the origin/profile issues of Mirror Master and Heat Wave; the Identity Crisis tie-in, "The Secret of Barry Allen"; at least half of the Villains United Flash/Wonder Woman crossover; and of course, "Rogue War."
I still think we'll see a volume 4 at some point covering Flash: Rebirth through Flashpoint. It'll be about the same length as this one.
Share