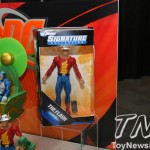 Toy Fair 2012 got underway on February 12 with a variety of action figure news and photos from Mattel. For Flash fans, the big point of interest is two new figures from the DC Universe Club: Jay Garrick and Mirror Master. The figures are primarily available to subscribers, but people who don't subscribe to the club can order them at a slightly higher price from Mattel's site MattyCollector.com. Jay will be available on April 16, and Mirror Master on June 16.
Honestly, these figures look great. The sculpts are wonderful (from Jay's easy-going smile to Mirror Master's smirk), and the shiny vacuumized metal on Jay's helmet is a nice touch. I'll definitely be picking up Mirror Master, of course.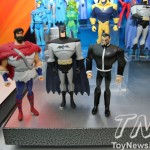 Another bit of big news is the momentary return of Justice League Unlimited 3-Packs. This series was cancelled a while ago and some figures that had already been announced would seemingly never be released, but will now be available in Autumn 2012 at MattyCollector.com! This includes a set of Batman, Future Superman, and Vandal Savage.
Also shown were some DC Action League 2-Packs, including the Flashpoint set of Flash and Citizen Cold. These were originally shown at San Diego Comic-Con, but haven't been released yet. And the New 52-design DC Universe Flash figure was also on display again.
DC Direct has not yet shown anything Flash-related, but Toy Fair spans several days and they may not have unveiled all their new products.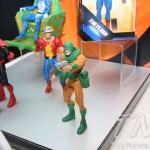 Images and information courtesy of Toy News International. See all their photos of Mattel's DC figures here.

Share