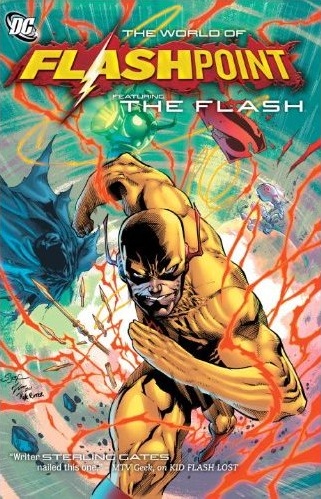 Flashpoint: The World of Flashpoint Featuring the Flash
Written by SEAN RYAN, STERLING GATES, ADAM GLASS and SCOTT KOLINS
Art by IG GUARA, OLIVER NOME, RODNEY BUCHEMI, JOEL GOMEZ, SCOTT KOLINS and JOSE MARZAN JR.
Cover by ARDIAN SYAF and VICENTE CIFUENTES
On sale MARCH 21 • 256 pg, FC, $17.99 US
Don't miss this Flash volume collecting GRODD OF WAR #1, KID FLASH LOST #1-3, LEGION OF DOOM #1-3, REVERSE FLASH #1 and CITIZEN COLD #1-3.
I'll say one thing for DC's Flashpoint collection strategy: they actually managed to put all the Flash-related tie-ins in one book, without adding too much unrelated material (like tossing Frankenstein and the Creatures of the Unknown in with the Flashpoint/Green Lantern collection).
Grodd of War obviously focuses on Gorilla Grodd, who in the Flashpoint universe has taken over Gorilla City and subsequently conquered the entire continent of Africa.
Kid Flash Lost follows the main DC Universe's Bart Allen, trying to fix the changes to history before they catch up to his home era and make him disappear as well.
Legion of Doom is a brutal prison break story focusing on Heat Wave, who has gone beyond pyromania to full-on psychosis psychopathy.
Reverse Flash stars Professor Zoom, though it's only tangentially related to Flashpoint in that it looks at the main DCU's Zoom trying to change history.
Citizen Cold features a Captain Cold who uses the mask of Central City's resident hero to hide his criminal past, and the parallel efforts of reporter Iris West and the city's resident super-criminals to take him down.
Order it from Amazon for next week or buy it at your local comic shop tomorrow!
Share