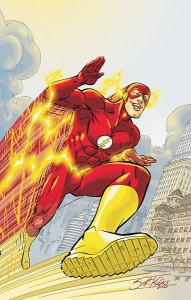 THE FLASH BY GEOFF JOHNS OMNIBUS VOL. 2 HC
Written by GEOFF JOHNS
Art by SCOTT KOLINS, DOUG HAZLEWOOD, RICK BURCHETT, PHIL WINSLADE, DAN PANOSIAN and others
Cover by SCOTT KOLINS
648 pg, FC, $75.00 US (Or $46 on Amazon)
It's the second hardcover volume collecting all the issues of THE FLASH written by comics superstar Geoff Johns! In this massive collection featuring issues #177-200 and DC FIRST: FLASH/SUPERMAN #1, an old friend of Wally West becomes the portal to another universe and Gorilla Grodd goes wild in Keystone City! Plus, don't miss the Fastest Man Alive's clashes with members of his infamous rogues gallery, including Captain Cold, The Trickster, the Pied Piper and more!
Notes: I've said before that these are my favorite stories from Geoff Johns' run. He'd hit his stride by this point, bringing everything together first for Crossfire, then for Blitz, with some great done-in-one stories in the middle and a real effort to balance characterization, world building, and both the classic Rogues and new villains.
Share