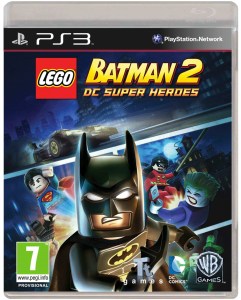 Hey Speed Readers,
I'd been away from the net for a few days so I hadn't heard that the first picture of The Flash in Lego Batman 2: DC Superheroes had been released by Game Informer Magazine. This is the first visual confirmation of the Scarlet Speedster we've had since USA Today revealed his presence in the game a couple of months ago. The only picture so far is in the magazine that I don't own but luckily the internet is full of all kinds of cool cats posting scans and vids: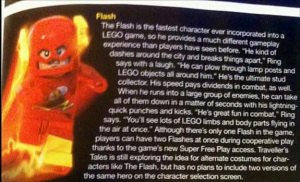 Picture courtesy of Youtube user, SuperheroesLego
Awesome, Awesome, Awesome! I just replayed Justice League Heroes earlier this week and man, have I been hankering for some fresh super speed action.  We can only speculate about what alternate costumes they have in mind for our flashy friend but if there are indeed alternative attires I'm hoping for something interesting. Remember Dark Flash and Jay Garrick from Justice League Heroes? We definitely need something akin to those skins.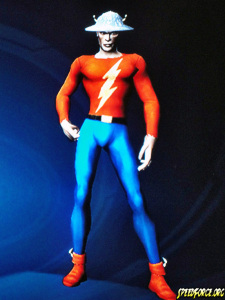 Jay Garrick from Justice League Heroes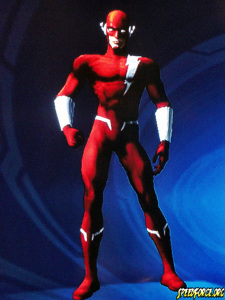 Dark Flash (Walter West) from Justice League Heroes
But that isn't all; while scouring the net for info on The Flash appearance in Lego Batman 2 I found an ad from EB Games Australia: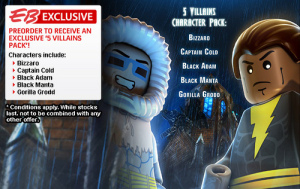 So apparently as a preorder incentive, Australian EB Games (or Gamestop to us) customers will be receiving 5 bonus villains which will include two Flash villains: Captain Cold and Gorilla Grodd! YES, YES, YES! I'm counting on US customers also receiving these characters in one form or another. We do know for a fact that it won't be via preorder as the only bonuses I've been able to track down for preordering are a limited edition Lego Lex Luthor from Gamestop and a bonus hero pack featuring Nightwing, Shazam (Captain Marvel), Katana, Damian Wayne (the latest Robin), and Zatanna from Amazon. If anyone has any additional information about the villain pack please let us know.
With the ability to play as over 50 DC Comics characters in a open world environment, customizable characters for creating unique variations and characters that may not have been included, as well as two player offline and online co-op play I have a feeling this just may be the ultimate DC Comics video game.
Lego Batman 2: DC Superheroes will be in stores June 19th for all current generation consoles and handhelds: Playstation 3, Xbox 360, Wii, DS, 3DS, PS Vita and PCs.
Anyone plan on preordering this game? Let us know in the comments below.
Thanks for reading,
Share