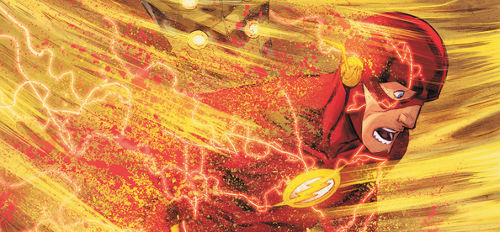 After six solid months in the top 10, The Flash dropped down to the #11 spot in March and #14 in April in the rankings based on units sold. Not coincidentally, March featured the launch of Marvel's Avengers vs. X-Men event, and a number of related Marvel books pushed aside the better sellers of DC's New 52. (The Flash was still DC's #8 book.)
Estimates at ICv2 have the series selling 64,975 issues in March and 63,702 issues in April.
On the downside, the book is selling half what it sold last September. On the plus side, it's still ahead of the 53K mark it had reached at this point in the previous volume. Better yet, those month-to-month drops are getting smaller, suggesting that it may find its level soon. I've suggested before that if it levels out above 55K (where volume 3 settled), the Flash relaunch is probably a success. Though it may be cutting things a bit close.
Update: Christopher Schmitt brings up digital numbers, which I forgot to look for. CBR has been running monthly interviews with Bob Wayne & John Cunningham in which they discuss the month's sales, including DC's own digital rankings (but not actual numbers, which most companies are still keeping quiet about). I've mentioned before that The Flash doesn't rank as well digitally, where it hasn't even made it into DC's top 10 yet (here's March). DC released their April Top 20,** and Flash came in at #18 digitally, compared to #8 in print if you look only at DC's output.
Numbers
Issue
Rank
Month
Units Sold
% Change
Flash vol.4
Flash v.4 #1
4
September 2011
129,260
Flash v.4 #2
5
October 2011
114,137
-11.7%
Flash v.4 #3
9
November 2011
90,417
-20.8%
Flash v.4 #4
8
December 2011
77,336
-14.5%
Flash v.4 #5
8
January 2012
71,611
-7.4%
Flash v.4 #6
8
February2012
68,061
-5.0%
Flash v.4 #7
11
March 2012
64,975
-4.5%
Flash v.4 #8
11
April 2012
63,702
-2.0%
A few key articles covering past sales (with lots of numbers):
*What these numbers measure: US-only sales, wholesale from Diamond to comics retailers. They don't count sales through bookstores, they don't count international sales, and they don't count how many copies were actually bought and read…but they do measure the same thing every month, which means they can be used to spot trends.
**It's not clear how comparable the rankings are, since Diamond's rankings are for sales over the whole month, and DC's digital chart here is described as "Best Selling Single issue in a week." Though since The Flash comes out the fourth week of the month, there probably isn't much difference.
Share