Promotional photos have finally been released for tomorrow's Young Justice Episode, "Bloodlines" by Peter David. Months ago, he wrote about the voice recording sessions featuring Jay Garrick alongside Barry Allen and Wally West, leading us to speculate that it would be a Flash Family-centric episode.
As it turns out there's another speedster appearing!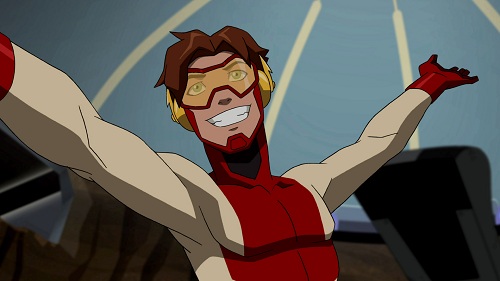 Yes, the rumors were true: Bart Allen is appearing in the episode as Impulse!
@SuperheroShows was kind enough to point me to Worlds Finest Online, where they have six still images plus a 50-second preview clip. Update: Chrome is blocking that link as unsafe. Here's a copy at Superman Homepage. (How does one get on the mailing list for these preview releases?)
Here's how the episode is described:
An intruder mysteriously appears inside Mount Justice, claiming to be a tourist from the future. But who is he really? And what is his true agenda?
Young Justice "Bloodlines" airs Saturday June 2 at 10:30 am Eastern/Pacific Time on Cartoon Network.
Jay, Barry, Wally and Bart.
Not only that, but Bart as Impulse, written by Peter David, who wrote the entire run of the original Young Justice series.
I am so looking forward to this!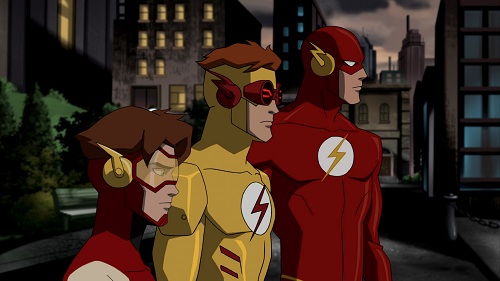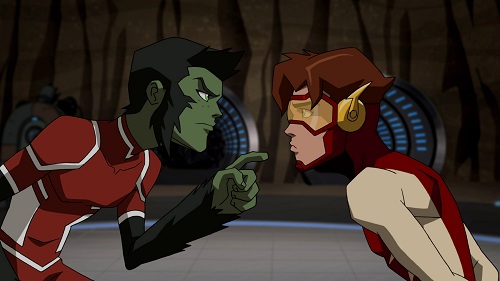 Share