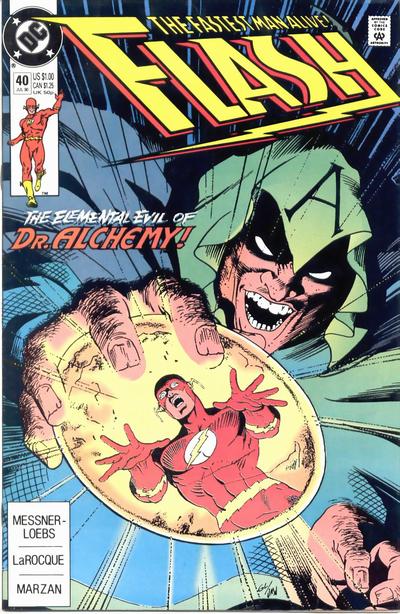 This week's digital backissues at ComiXology include Flash v.2 #40-42, featuring a two-part Dr. Alchemy story and the first part of a Kilg%re two-parter.
In "Philosopher's Stone" and "Elemental Conflict," Wally West consults the reformed but quirky scientist Al Desmond to help Linda with her spiritual possession (Seamus, the medieval Irish bard who showed up unwanted while they investigated the Celestial Ranch cult last time). But there are two sides to Desmond's personality, one of which is Dr. Alchemy. This story made an interesting reveal about the nature of the two Al Desmonds, one which seems to have been forgotten or at least glossed over by later Flash writers.
In "Mechanical Failure" (though I prefer the "Night of the Mechanical Zombies" tagline from the cover), we catch up with Wally's old flame Dr. Tina McGee, now working with her husband Jerry on an artificial intelligence project. But her colleagues don't seem to be acting quite themselves, and no one will believe her when she tells them something seems wrong about them….
Flash #40-42 will be available on ComiXology Wednesday morning.
Share