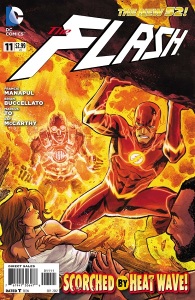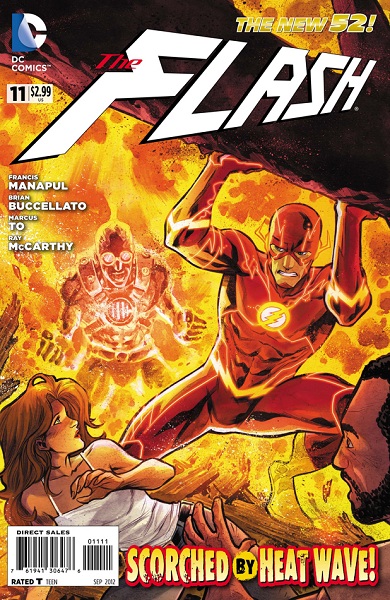 This week sees the release of Flash #11 and the arrival of Heat Wave, as the series builds toward August's Flash Annual. A 3-page preview is available, which led to some heavy discussion here last week. Marcus To and Ray McCarthy provide guest art for the second of two issues, with Manapul and Buccellato taking over again next month.
THE FLASH #11
Written by FRANCIS MANAPUL and BRIAN BUCCELLATO
Art by MARCUS TO
1:25 B&W Variant cover by FRANCIS MANAPUL
• The New 52 debut of HEAT WAVE!
• THE FLASH is on a crash course with THE ROGUES!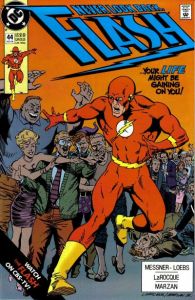 This week also brings three new digital back-issues at ComiXology from The Flash (1987-2009). All three are by William Messner-Loebs and Greg LaRocque.
Flash #43: The Trouble with Kilg%re – The stories of Linda's possession and Kilg%re's return collide head-on, with the Flash caught in the middle.
Flash #44: Balance Sheet – Wally West saves a mugging victim, but can't move him safely to reach an emergency room. What's a speedster to do?
Flash #45: Dog Days – Flash teams up with Vixen as Grodd leads the animals of Keystone City in a rebellion against the humans. Part 1 of 3.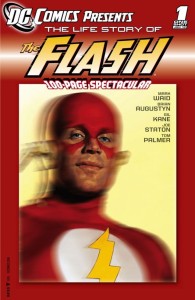 And finally, ComiXology has a digital copy of The Life Story of the Flash, a 100-page combination prose/graphic novel written as if it were the in-universe biography of Barry Allen by his widow, Iris Allen. Mark Waid and Brian Augustyn wrote it, with art by Gil Kane, Joe Staton and Tom Palmer. Interestingly, DC has given ComiXology the "DC Presents" reprint as the basis for the digital copy. Definitely recommended, even if most of it's been erased by now.
Share