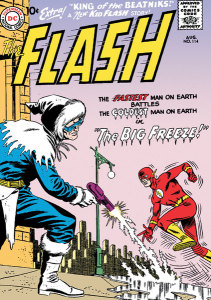 Following on the heels of last week's Flash Archives vol.6 for the hardcover collector, DC has the next volume of the softcover series reprinting the Silver Age Flash starring Barry Allen: Flash Chronicles vol.3
In this third collection of 1960s adventures in chronological order, the Fastest Man Alive battles Rogues including The Trickster, Captain Cold, Captain Boomerang, Gorilla Grodd and more. • Collecting THE FLASH #113-118.
Written by John Broome and Gardner Fox, art by Carmine Infantino, Joe Giella, and Murphy Anderson.
The Flash Chronicles Vol. 3 at Amazon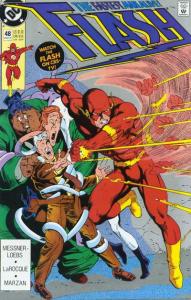 The surprise comes with this week's back issues from ComiXology. For the last few months, DC has been releasing three issues a week of the Wally West Flash series. Last week, they only released two, and this week, they're only releasing one…but we've also got two issues of Impulse featuring Bart Allen!
Flash #48 by William Messner-Loebs and Greg LaRocque. The Elongated Man guest stars in part one of this three-parter leading up to the big Flash #50. A flood of cheap drugs is causing a devastating crime wave, and the clues point to the return of Vandal Savage…as well as his arch-nemesis, the Immortal Man. Flash v.2 on ComiXology.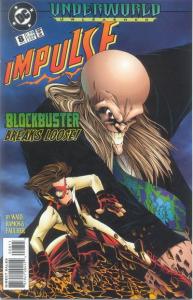 Impulse #7–8. The first is a one-shot by Martin Pasko, Nick Gnazzo, Mark Stegbauer, in which Impulse battles the one-shot villain Gridlock. The second features the return of regular writing & art team Mark Waid and Humberto Ramos for an Underworld Unleashed crossover in which Bart faces off against the new improved Blockbuster, who bartered his soul for intelligence…but is even less happy now than he was before.
Share