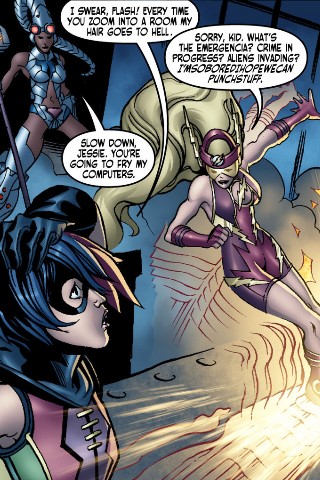 Speedster Jesse Quick is back – not in the New 52, but in the digital-first series Ame-Comi as that universe's Flash.
If you're not familiar with the title, it started out as a statue line in which DC's major female characters were re-imagined as anime characters*. They next moved on to adapting female characters who were similar to more well-known male characters: Jesse Quick as the Flash, Duela Dent as the Joker, etc.**
Earlier this summer, DC launched a weekly comic book online featuring these versions of their characters. Wonder Woman has the first spotlight miniseries, then Batgirl, Duela Dent and currently Power Girl. @TheFlashReborn points out that Jesse Quick makes an appearance as the Flash in Ame-Comi: Duela Dent #2.
There's one more "solo" miniseries starring Supergirl, and then it rolls over into an ongoing Ame-Comi series. Here's hoping the Flash will get some time in the spotlight soon.
New chapters of Ame-Comi go up online every Monday on ComiXology, and will appear in print starting in October.
*As I understand it, "ame-comi" is a Japanese term for American comics, so the terminology is sort of backwards – it's an American interpretation of how the Japanese might adapt an American comic book character.
**Eventually they moved into stranger territory, like repainting Jesse Quick as the Black Flash.
Share