Hey Speed Readers,
Japanese company Kotobukiya, has teamed up with DC Comics to give us some slick statues based on the New 52. With Superman, Wonder Woman, and Green Lantern already announced Flash will be joining the ranks of Kotobukiya's Justice League in March of 2013: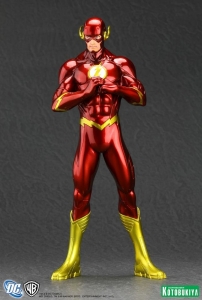 A KOTOBUKIYA Japanese import! Kotobukiya's line of DC Comics "New 52" ARTFX+ Statues continues, capturing the new looks and costumes of heroes in the Justice League. Racing to join the previously released Superman and Green Lantern comes the Scarlet Speedster and guardian of the Gem Cities, THE FLASH! Barry Allen was a mild-mannered forensic scientist (who was perpetually late) working late at night in his lab when a bolt of lightning changed his life forever. The electricity and chemicals combined mysteriously to imbue Allen with unbelievable speed and thus the Flash was born!

Not content merely to stand at attention like his fellow Justice Leaguers Superman and Green Lantern, the Flash can't stay still for a moment. Ready to speed off to fight crime or supervillains with a wide-legged stance, Allen cracks his knuckles in anticipation. The Scarlet Speedster's New 52 costume maintains the character's traditional bright red and yellow color scheme but updates it with a bold new lightning bolt logo and intricate energy lines crackling all over his suit. The Flash's excellent sculpt even includes the new technological details of his costume like the reinforced boots.

Standing 7 ½ inches tall (in the ARTFX+ 1/10th scale), the Flash was sculpted by master artist Atelier Bamboo. Magnets in his feet make him perfectly stable on his included display base, and he'll look great on your shelf next to the rest of the Justice League including the upcoming Wonder Woman!

Release: March 2013
The statue is available for preorder at a number of outlets, my personal favorite, being Bigbadtoystore.com. It will retail for $39.99 usd, but you can find it at BBTS for $35.99.
Personally, I love this statue! Absolutely love it. Not only is it priced well but with all the sculpted details, being an import and standing at 7 ½ inches tall, I can't think of a better deal. Plus, it's so shiny!
Anyone plan on preordering this statue or waiting until the release and then trying your luck then? I'm probably going to wait a couple of months myself and make up my mind on whether I seriously want to throw support towards the New 52 or not. Such an excellent, affordable statue though. Decisions, decisions. Tell us what you think in the comments below.
Share