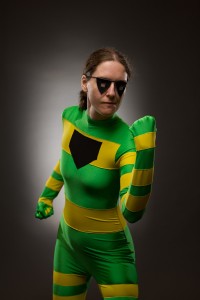 Fan Expo was held in Toronto on August 23-26 this year, and size-wise was quite possibly bigger than ever. I've gone every year for about a decade now, but this con was different: I cosplayed for the first time! Nobody who knows me would be surprised that I decided to go as the Top, as I'm probably the Internet's most diehard Top fan.
I cosplayed on Saturday, which is the convention's major cosplaying day. And to my great surprise and delight, I met a Heat Wave cosplayer! While I've since learned that somebody else dressed as Captain Cold in a previous year, I've never personally seen a Rogue at Fan Expo, so it was really great to see one during my first time. And many people seemed quite excited to see Heat Wave (Brando Lars) and I together. We also met up with a couple of Flashes and participated in a photoshoot with other people dressed as DC characters. It was a lot of fun.
I was personally gratified to hear from people who recognized my costume and liked the Rogues, and had some interesting conversations with strangers. It was nice to meet and chat with fellow fans that I probably wouldn't have met otherwise. The great thing about wearing a costume is you're pretty much advertising what you like right off the bat, and gets it all out in the open for people to talk about. It's a good way to show what you enjoy and meet people of like-minded interests, and if that's something you're interested in then I highly recommend cosplaying.
And now the photos!
Here I am in front of the green screen at the DC booth. The picture turned out fairly amusingly, as the green parts of my costume were rendered invisible and I looked somewhat like a ghost (which is fitting for the Top).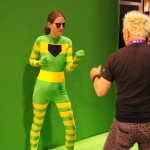 A meeting of Rogues!
With Flash fill-in artist Marcus To.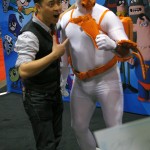 I was the last person in line to see Chris Sprouse at the DC booth, and people rather liked the visual of me holding the sign I'd been given. This photo was taken by a photographer from EB Games, and put in their Facebook gallery.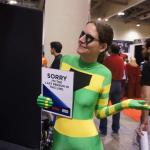 Apparently Flash has been brainwashing the Top again, tsk.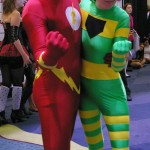 Some pics from the DC group photoshoot.
Poor Heat Wave; punched by the Flash and abandoned by his buddy. So much for Rogue solidarity.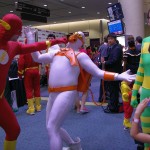 We villains are on a schedule.
This picture (and the first one) was taken at a free photoshoot by Convoke Photography, and you had the option of buying the digital images on a CD if you wanted them. I was really pleased with the results.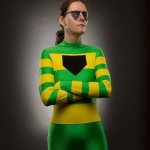 Some links to other people's photos:
A DC group shot taken by a stranger. The Flash doesn't realize the danger he's in…
This site has a nice picture of Heat Wave
What do you think? Have you cosplayed before, or are you thinking of trying it now?
Share