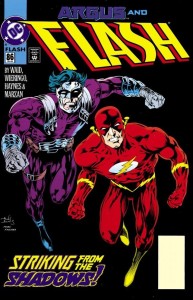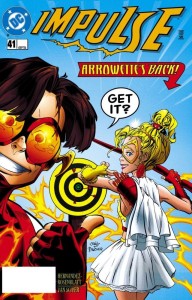 This week's Flash comics are all digital, including two re-issues today, and one new chapter in the Impulse story on Smallville on Friday.
Flash v.2 #86: The Flash and Argus go against the alien weapons-dealers, the Combine. (Note: ComiXology's summaries have been off a few issues lately. They describe this one as having to do with the lawsuit storyline.)
Impulse #41: "Arrowette's back and she's asked Impulse to help her solve a string of mysterious thefts in several schools. In order to do so, Bart's got to accompany her to a dance where he believes he's uncovered the source of these thefts–and it involves just about everyone in Flash's Rogues Gallery!"
Smallville Season 11 #26: Continuing "Haunted," guest-starring Impulse. Read more about this storyline in last week's article..
Share