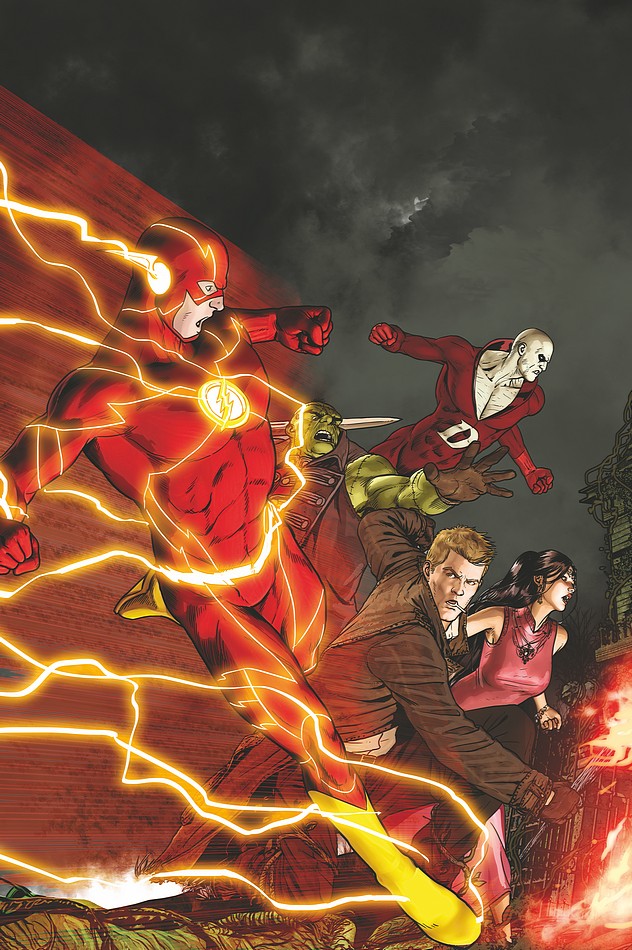 DC's April solicitations are trickling out today, and in addition to The Flash #19 and the usual team books, the scarlet speedster is guest starring in at least two three other comics: Justice League Dark, Dial H (hinted at in the March solicitations) and DC Universe Presents. Plus, Impulse's guest spots in Smallville Season 11 continue for a fourth issue as Bart and Clark face off against the Black Flash.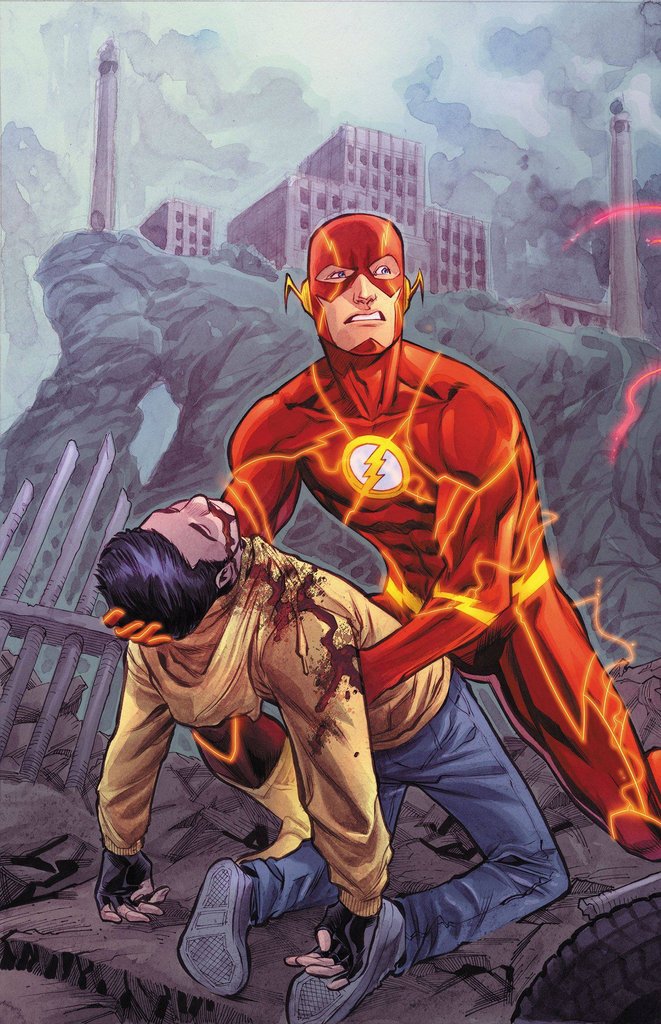 From the Justice League group:
THE FLASH #19
Written by BRIAN BUCCELLATO
Art by MARCIO TAKARA
Fold-out cover by FRANCIS MANAPUL
1:25 MAD Variant cover by The Usual Gang of Idiots
On sale APRIL 24 • 32 pg, FC, $2.99 US • RATED T
What is the latest and greatest threat to The Flash and all those closest to him?
That's not a proper riddle, now is it, my precious?
Update: I forgot to mention that this is the second of two issues that Francis Manapul is taking off. Assuming plans don't change, he'll be back for Flash #20 and the start of the Reverse Flash storyline.
Update: I missed the fact that this is the book attached to the sword cover we posted on Friday:
DC UNIVERSE PRESENTS #19
Written by TONY BEDARD
Art by JESUS SAIZ
Fold-out cover by JESUS MERINO
On sale APRIL 17 • 32 pg, FC, $2.99 US • RATED T • FINAL ISSUE
In this final issue, what time displaced-hero has arrived on our world—and is the destruction he brings the herald to a great disaster?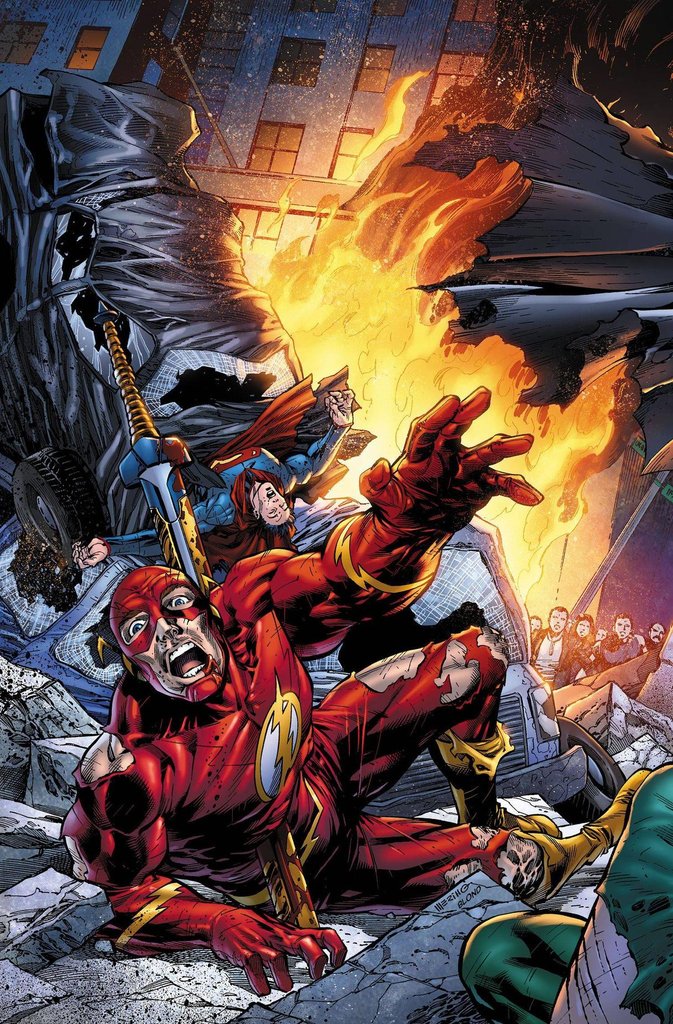 From the Dark group:
JUSTICE LEAGUE DARK #19
Written by JEFF LEMIRE and RAY FAWKES
Art and fold-out cover by MIKEL JANIN
On sale APRIL 24 • 32 pg, FC, $2.99 US • RATED T
The House of Mystery is under siege—can special guest star The Flash help Justice League Dark battle this unexpected threat?
DIAL H #11
Written by CHINA MIEVILLE
Art by ALBERTO PONTICELLI and DAN GREEN
Fold-out cover by BRIAN BOLLAND
On sale APRIL 3 • 32 pg, FC, $2.99 US • RATED T+
So that's what WTF means. And all this time I thought it stood for something else.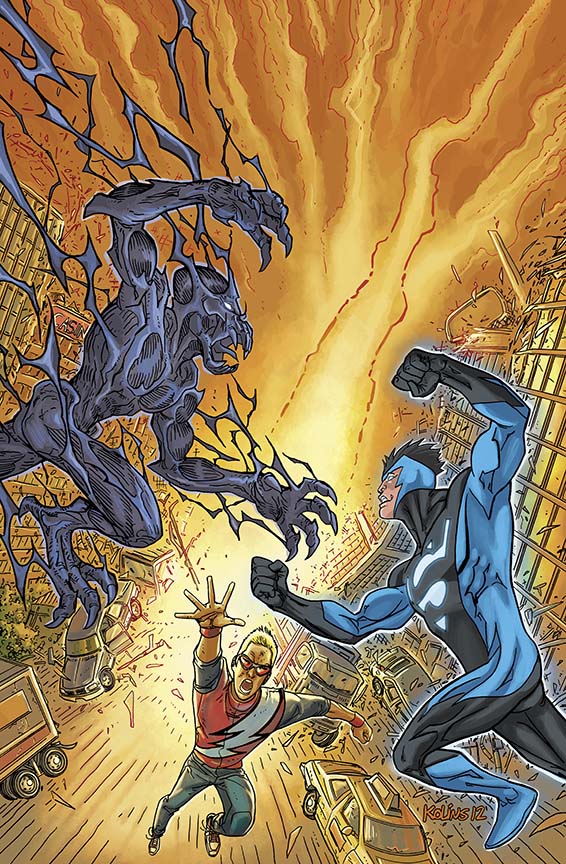 From the Beyond the New 52 group:
SMALLVILLE SEASON 11 #12
Written by BRYAN Q. MILLER
Art by JORGE JIMENEZ
Cover by SCOTT KOLINS
On sale APRIL 3 • 40 pg, FC, $3.99 US • RATED T
All-new digital adventures in print for the first time!
The shocking conclusion to "Haunted."
Superman and Impulse face off against the Black Flash in Las Vegas!
Meanwhile, events move into crisis mode on Earth 2…
+1 for the Black Flash, -1 for Electric Superman.
Share