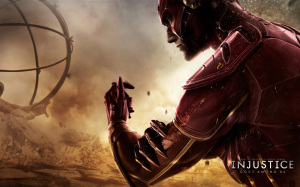 Hey Speed Readers,
We've had a busy last few days when it comes to Flash news. First the final fate of Wally West in Young Justice and now some Injustice: Gods Among Us video game news.
First off, the creators behind Injustice, Netherrealm Studios, have been running a tournament called Injustice Battle Arena for the last few weeks. In it DC characters face off against each other with fan votes deciding the outcome. The Flash has already trounced Captain Marvel (or Shazam! ugh), and in a big shock this past week The Flash pulled off a huge upset against insanely popular Batman foe, The Joker.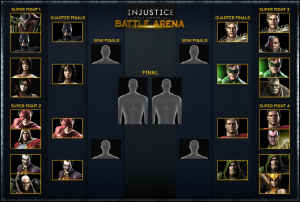 In any sort of battle The Flash really trumps The Joker (and most opponents) every time. But there are some battles where all the speed in the world won't grant you an advantage (in fact most of the time the complete opposite, waka, waka) and that is a popularity contest. Most of my interactions with non-superhero fans who learn that I like the Flash usually include some variation of "But doesn't he just run fast?" and when I inevitably ask them about their favorite hero, 9 times out of 10, it is Batman. His villains usually come up as a huge selling point for those fans, especially the ones who have only seen the animated series or the movies. In other words I'm shocked out of my gourd that The Flash not only held his own with The Joker in a popularity contest but will now be advancing to take on the big man himself, Batman!
Yeah it is easy to throw your hands up in the air and admit defeat in the face of The Bat but The Flash is not going out like some punk. Tell your friends, tell your neighbors, tell your boss, and tell your kids, vote for The Flash against Batman beginning next Monday, March 25, 2013. You can vote HERE!
Injustice: Gods Among Us will be available April 16, 2013 for the Playstation 3, Xbox 360, and Wii U gaming consoles.
In other Injustice news a while back DC Collectibles announced an Injustice action figure two-pack featuring The Flash and a mystery character. Well twitch your nose no longer, the mystery character has been revealed as Raven!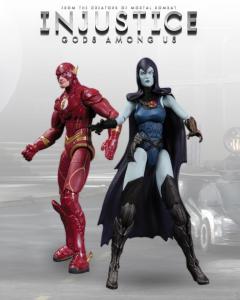 I'm sorry to say that I've no idea what role (if any) Raven is playing in the New 52 (the Titans book is a travesty) but she would have been a much better match with a Wally West Flash considering the history they have had together. Sort of like when Geoff Johns tried to sub Barry instead of Wally for an interaction with Cyborg a few months back in the Justice League book. It just isn't the same.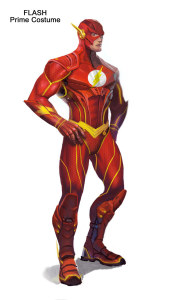 Still, excellent looking figure and easily one of my favorite redesigns from this game. She definitely looks like the daughter of a demon. You know in a good way. The Flash design I know most people could leave, but I find myself really liking the armored speedster costume designs as of late. I'm a child of the 90's, what can I say? Give him some whited out eyes/goggles/lenses and I'm 100% on board. I don't understand all that other armor if you've got nothing protecting your eyes.
What do you think of the Injustice action figures and the inclusion of Raven with Barry Allen? Will you be voting in the Injustice Battle Arena next Monday on the side of the Speedster or the Bat? Please, let us know in the comments below.
Thanks for reading,
Share