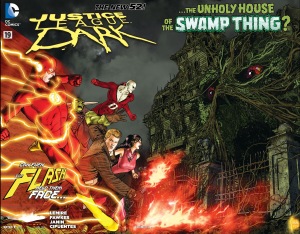 This issue of Justice League Dark begins a three-issue arc that will include The Flash as they fight a power that has taken over the House of Mystery! Flash fans may be a bit disappointed in this first issue of the arc, as there isn't much of an appearance from the Scarlet Speedster…but hopefully this is just the start of a much greater role for The Flash in this story arc.  Barry isn't the only guest star present, though…and that's where the fun begins!
SOME SPOILERS AHEAD – PLEASE READ THE ISSUE BEFORE MOVING FORWARD!
This story begins with Constantine at the race track, actually attempting to lose without much success (and yes, I know that sounds odd).  But, it is the prelude to an attack, one that severs his connection to the House of Mystery just long enough for it to be taken over! Constantine gathers the JL Dark (although at least Deadman hates that name for the group) and calls in help from Swamp Thing to locate the missing House.  Swamp Thing does help them find the House of Mystery…but that triggers nightmare visions sent by the House for each member of the league!  Madame Xanadu does manage to get a cryptic message out to Frankenstein before they are separated, saying "when the lightning comes, make it your friend."
That lightning does come…in the form of The Flash!  His brief appearance is a lead in to the next issue of Justice League Dark, as they fight the villain who is revealed in the final panel of the story.  If you want to know just who they are up against, you'll need to buy the issue.
Jeff Lemire and Ray Fawkes scripted this issue, with Mikel Janin and Vicente Cifuentes on art with colors by Jeromy Cox.  Their work on the JL Dark characters is amazing and their Flash is credible, though we will have to wait for next issue to see just what they do with Barry in a longer appearance.  If you are a JL Dark fan this should be a good issue for you.  Flash fans may be a little disappointed as the cover gives the indication of a longer appearance than what actually happens in this issue.  However, we may see a lot more Flash-oriented action as this arc progresses, and it will be interesting to see what happens to the House of Mystery before this arc is through.
Share