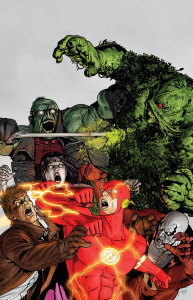 In the last issue of Justice League Dark, the House of Mystery had been hijacked and Swamp Thing had been captured, allowing Doctor Destiny to send nightmare visions into the world.  The Flash had been brought into this battle, as there is something about his powers that makes him uniquely qualified to help.  Now, the battle heats up in Justice League Dark #20, the second of a three issue arc guest starring The Fastest Man Alive!
SOME MINOR SPOILERS AHEAD! Don't go further until you've read the issue!
As The Flash and Frankenstein battle the vision of Frankenstein's bride and child, Barry makes an unusual observation – they (and most of the other nightmare visions the team is fighting) seem to be made of "hard energy" that The Flash can dissipate with his vibrations.  That's a very handy fact to keep in mind for the many battles that take place in this story arc.  Barry gathers the JL Dark (and the rescue…if that's what you call it…of Constantine was a great scene) then locates the House of Mystery through a detailed search of the city that takes The Fastest Man Alive mere seconds to complete.  But, as they enter the House, there is one more startling revelation – one that would simply be too much of a spoiler to share here.  It does mean that next issue should be very significant for the JL Dark, and for one member in particular.
Ray Fawkes and Jeff Lemire scripted this issue, with Mike Janin on layouts and the cover, Vicente Cifuentes on finishes and Jeromy Cox on colors.  This was overall an excellent issue, particularly when you look at the main characters of this series, the JL Dark.  That being said, the characterization of the Flash appeared a bit early Wally-ish with a little Bart thrown in…an almost hyper Barry who can grab the members of the JL Dark and physically bring them together without first thinking out whether this is the best course of action.  And, the artwork for Barry was credible though not in the range of Manapul and Buccellato.  However, I'm being a bit harsh here – any time you have a "guest star" in a comic, it can be hard to nail down the full characterization going on in that hero's main title.  The essence of Flash over the years was certainly there, and it was great to see The Flash be so powerful against very serious mystical forces.
If you want to catch all Flash appearances, that reason alone is enough to grab this issue. But, if you like your heroics served with a side of mystery and intrigue, Justice League Dark is an excellent series to read on its own.  Check it out!
Share