Two items from DC Comics' September solicitations, both from their digital-first line:
AME-COMI GIRLS #7
Written by JUSTIN GRAY and JIMMY PALMIOTTI
Art by HORACIO DOMINGUES, EDUARDO FRANCISCO and RUBEN GONZALEZ
Cover by EDUARDO FRANCISCO
On sale SEPTEMBER 4 • 40 pg, FC, $3.99 US • RATED T • DIGITAL FIRST
Meet the Hellions—a team of misfit Ame-Comi Girls out to have fun and save the world. It's not easy for Black Flash being the only undead, crime-fighting teenager in school. But when she meets Red Raven and her badass besties, she may have finally found a place to fit in.
The Black Flash statue was originally a repaint of the Jesse Quick-as-the-Flash statue. I find it interesting that the Ame-Comi comics have expanded to include the repaint characters. Presumably the chapters featuring her will appear digitally in August. Does anyone know if Jesse Quick/The Flash has had a spotlight story in this series?
SMALLVILLE SEASON 11 VOL. 3: HAUNTED TP
Written by BRYAN Q. MILLER
Art by JORGE JIMENEZ
Cover by SCOTT KOLINS
On sale OCTOBER 16 • 144 pg, FC, $14.99 US
In these stories from issues #9-12, mysterious speed storms have struck across the globe, and a familiar face returns to help Clark to stop them. Then, Lex moves against Tess to reveal what she knows about The Man of Steel, and the secrets of Earth-Two Chloe are revealed!
This collects the full story that quest-starred Bart Allen as Impulse and Jay Garrick as the Flash of the Justice Society in the Smallville universe.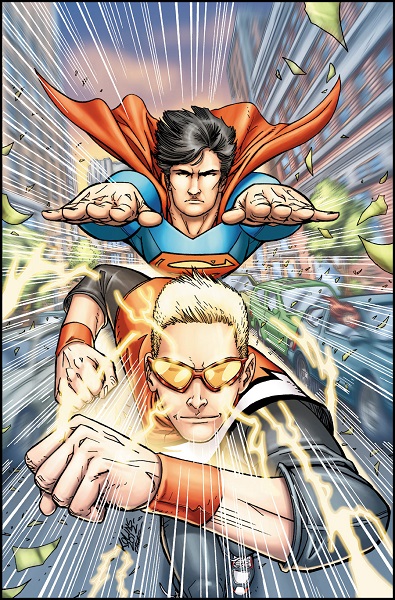 Share