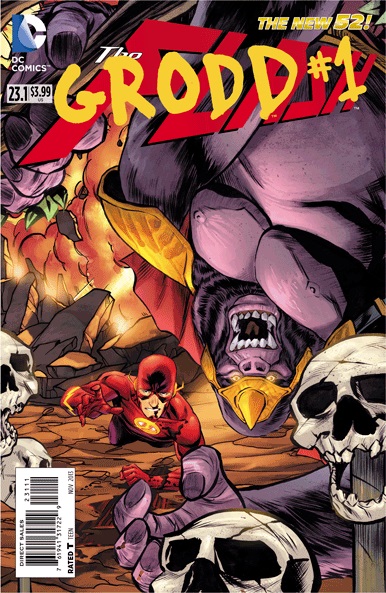 DC Comics has officially announced the long-rumored Villains month for the second anniversary of the New 52, and the launch of the seven-part Forever Evil event miniseries by Geoff Johns and David Finch.
For Villains Month, each ongoing series will be taken over by a villain for September.
Flash #23.1 has become Grodd #1, which appears to drop in the middle of the 6-part "Reversed." The covers will be lenticular 3D. It's a big file, so instead of pasting it in, I'm linking to the animated GIF of the Grodd cover.
Additionally, three five-issue miniseries will launch in October, including one that will be of interest to fans of the Scarlet Speedster:
Forever Evil: Rogues. Writer Brian Buccellato (The Flash) and Patrick Zircher (Suicide Squad) put the spotlight on the Flash's colorful and infamous gang of Rogues, led by Captain Cold — a particular favorite of Johns, the former Flash writer, as well as Finch. "I just love his mask," the artist says. "He looks very steely and a little bit dead in the eye, which is very evil."
Via The Source. Update: Additional coverage of Forever Evil & Villains Month at The Beat, Newsarama and CBR.
Update: Two more one-shots have been announced: Reverse Flash & The Rogues.
Share