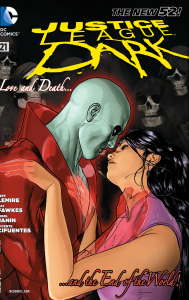 This issue concludes a three-issue visit from The Flash and Swamp Thing to Justice League Dark, one of the more eerie and entertaining titles in the New 52.  Doctor Destiny has hijacked the House of Mystery, and using the captured Swamp Thing has the whole place completely under his control!  Can even the combined might of the Fastest Man Alive and Justice League Dark stop this menace?
SOME SPOILERS AHEAD!
As we pick up in issue #21, Madame Xanadu has a terrifying vision of the future…where everything and everyone dies!  The battle begins anew, but things are not looking good for JL Dark here.  Meanwhile, Barry is rushing through town, dealing with all the threats that are outside the House of Mystery while Deadman possesses Swamp Thing in an attempt to figure out what can be done to deal with the dangers presented by the House itself.
As Deadman gets some inspiration, The Flash returns to the House of Mystery just in time to help Frankenstein once more…and we come to the final part of this battle with a terrible decision to be made by Madame Xanadu.  Will she be able to do what it takes to end this menace?  Will the House of Mystery be back to whatever "normal" means for such a fantastic place?  You'll have to check out the issue to find out more.
There was a bit of a "stunt" quality to the guest appearances of Flash and Swamp Thing that kept this arc from being absolutely perfect, but still I enjoyed this story overall.  Barry stayed a bit on the periphery of the main battles but still was involved enough to make this far better than most of his non-appearance "guest shots" we've seen lately.  There were little things here and there in the artwork that were just a small bit off (like red boots for Flash in one panel)…but that's to be expected in a guest shot.  The overall artwork was exceptional, particularly when depicting the JL Dark mainstays.    That's kudos to Mikel Janin and Vicente Cifuentes, along with Jeromy Cox on colors.  And, Ray Fawkes and Jeff Lemire "get" Barry better than I've seen in most team-up issues in the New 52 so far.  It was good to see the science-based Barry Allen dealing with the supernatural characters of JL Dark, and to see how well he battles under such unusual circumstances.  This isn't necessarily the Flash's best battle…but if you follow the him over to Justice League Dark you will find an excellent title that is well worth hanging around long after Barry has returned to the Gem Cities.
Share