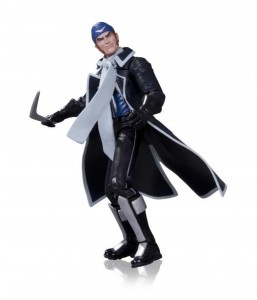 The first day of San Diego Comic-Con is often quiet, but there is one bit of Flash-related news to be announced: there's going to be a new Captain Boomerang action figure. He'll be part of a Suicide Squad three-pack with Deadshot and Harley Quinn, and the set will be made by DC Collectibles (formerly DC Direct). The figures are based on the characters' New 52 designs.
Toyark and Comics Alliance have photos of the set and the rest of the newly-announced DC figures.
I'm always glad to get more Rogues figures, but have to admit it's slightly disappointing to see a second modern Boomerang so soon after the previous Mattel release. It would have been nice to see a classic Digger at some point, but that's probably unlikely now.
Another item of possible interest is the new Scribblenauts Unmasked vinyl blind boxed figures — none of the photos I've seen show any Flash-related characters, but it's hard to believe there won't be any, at least if these figures sell well. I'd love a little Flash and some Rogues, so I really hope some are produced in the future.
That's all for today! What do you think of the figures?
Share