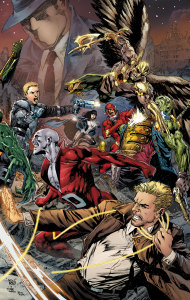 This is my favorite issue of the Trinity War arc so far – heroes are choosing sides left and right, plans of action are being made and changed all over the place, and the machinations of the big bad behind all this are just beginning to be revealed.  It is an exciting issue full of action and intrigue, and the potential scope of it's impact on the DC Universe is just beginning to be seen.
SOME SPOILERS AHEAD
In this issue we see several facets of the "Trinity" angle coming into play.  The various members of the three Justice Leagues are reforming into smaller groups, going after what each thinks is the most important task given the threat.  And, the various members of the Trinity of Sin are also in play – Pandora is on the run, Phantom Stranger warns Batman and his group about the danger of finding Pandora, and The Question frees Superman to help him find just who really did kill Dr. Light.  Superman is looking worse by the minute, but he is determined to get to the bottom of this, as are all the groups in play.  Problem is, they can't agree on just what IS the right thing to do here.  You can bet there is more conflict here, and no one…not even Amanda Waller…can get everyone to play along.  Will our heroes be able to pull things together, or will their conflicting efforts only make the ultimate plan of our big bad that much easier to attain?  That's what we'll have to see as Trinity War continues.
Jeff Lemire has put together an amazing script here, pulling together so many different characters effectively and building the tension to a fever pitch.  As I've already noted, this is my favorite issue of the Trinity War arc so far, and I'm looking forward to what comes next.  Mikel Janin's art, with colors from Jeromy Cox is spot on – a very difficult task when putting together so many heroes and trying to maintain the distinctive look of each from their own titles.  This is an "event' comic truly worthy of that name – be sure to check out JL Dark #22!
Share