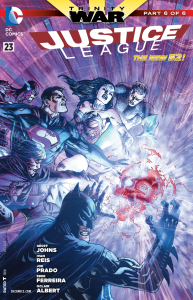 Trinity War comes to a high point in this issue of Justice League…but to say that the war "ends" is a bit inaccurate as this leads directly into the upcoming Forever Evil storyline (and all those Villains Month issues coming up).  By now, there have been enough interviews with huge spoilers that most fans know how this ends, and who shows up at the end…but in this case it's "all about the journey", so let's pick back up in the midst of that huge battle over Pandora's Box.
SOME SPOILERS AHEAD
This issue gives us the backstory for the mysterious leader of the Secret Society, the Outsider.  He has been watching the various heroes of this Earth for a long time, biding his time until he could complete his own mission.  He knew what no one else on our Earth could have known…that Pandora's Box was never of this Earth.  What this really turns out to be is what transitions us to the Forever Evil storyline.  In the meantime, we find out what really happened to Superman, and who turns out to be the real traitors to the Leagues (hint: not just one traitor here).  There are plenty of revelations through this issue, and if you like big (and I mean BIG) battle scenes this is definitely the issue for you!
Geoff Johns penned the script for this issue with Ivan Reis on pencils, Joe Prado, Oclair Albert and Eber Ferreira on inks and Rod Reis on colors.  The artwork is exceptional throughout the issue, and even though the final outcome was well known there were still very interesting surprises to be found here.  I have to confess that I'm not a huge fan of "event" storylines – but this arc at least gets the characters well, and that is all too rare in other "event" comics.  And, while the idea of one device being able to turn everyone against each other is a bit Silver-Agey it is carried out fairly well here.  The test of time for Trinity War will be what happens next in Forever Evil, but for now we at least know what the real meaning of "Trinity" is for this series…and I am looking forward to what we will see next month.
Share