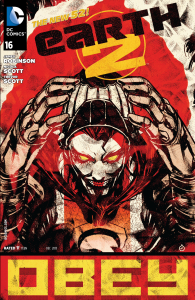 The battle is on with Steppenwolf and his forces.  Can even the new Wonders of Earth 2 stand against this threat?  Things aren't looking so good for our heroes, as James Robinson pens his last issue of Earth 2.  This issue has more action than all the previous issues combined…and the reveal at the end is a HUGE shocker!
LIGHT SPOILERS ONLY
The Wonders are continuing their fight against Steppenwolf.  But, even with a healing spell from Doctor Fate our heroes may not be up to the task.  The Flash, the Atom, Green Lantern, Doctor Fate and Sandman combined just aren't getting anywhere…and that's before Brutal steps in.  The action is big in this issue, and the payoff is a HUGE cliffhanger.  I can't say more here without being far too spoilerish…but wow!
James Robinson reminds us once again why this series has been one of the very best of the New 52, ending his run on a terrific high note.  This issue ties up a lot of loose threads from the very beginning of the series while setting the stage for a lot more to come.  Nicola Scott's pencils and Trevor Scott's inks are once again stellar – the look of this series is consistently exceptional, with great colors from Pete Pantazis.  I will truly miss Robinson's work on this series…but at least we have been given a truly great story to end this run.
Share