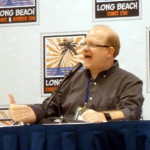 I spent Saturday at Long Beach Comic and Horror Con, which despite its name is still, five years on, one of the most comics-focused "comic con" events I've been to. Among other things, I caught the Young Justice Voice Acting panel with a dozen cast members and Greg Weisman, a discussion panel between Marv Wolfman and Scott Lobdell and a spotlight on Mark Waid (see photo). Wolfman and Waid are always fascinating, and Lobdell turned out to be really interesting as well. Brian Buccellato was supposed to be there as well, but I never saw him. Artist's Alley was huge, though, and I never quite managed to do the full systematic pass that I intended, so it's entirely possible that all my trips through the area missed him.
Some interesting Flash-related bits:
Jason Spisak, when asked about getting into his character, remarked that Wally West's lines in the script always look like he's a "total douche," but what he had to do was think: His friends keep him around. There's got to be something endearing to him that they want to have around. He'd find that and make it come through in his acting.
Speaking of Young Justice, the game studio that did Young Justice: Legacy still has the license. If the game does well enough, they'd like to do a sequel…set during what would have been season three.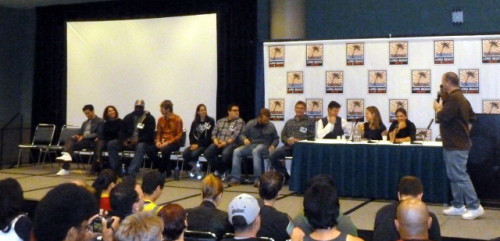 Mark Waid, when asked what story felt like he'd finally made it, said "The Return of Barry Allen." That's interesting, since the story was about Wally West reaching the point where he felt like he'd finally made it. He also said that his record at making good cliffhangers is due to the fact that he writes them before figuring out how the character's going to get out (which makes for a few stressful days at the beginning of the next script). If he doesn't know how, the audience isn't going to guess!
Scott Lobdell compares the New 52 Kid Flash's personality to Woody Woodpecker.
Check out my full write-up at K-Squared Ramblings or go straight to the photos.
Share