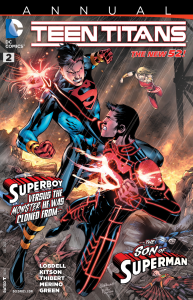 Thanks to Johnny Quick of Earth 3's Crime Syndicate, the Teen Titans have been lost in time.  The good news is that they are (mostly) together again…the bad news is where, or rather, when they are just now.  Bart fans will need to wait for the regular issue #25 to see more of Kid Flash, but there is a LOT here that impacts the team for some time to come…meaning TT fans need to check this out!
LIGHT SPOILERS ONLY
The Titans have arrived in a bleak version of the future, where the Batcave has been trashed and everything has gone terribly, terribly wrong.  This issue centers on Tim, Cassie and Kon…and on the person from whom Kon was cloned, the Son of Superman!    There are a lot of twists in this issue, including the previously announced change in the hero lineup here…but the way it was handled was actually a bit better than I had feared.  And, we get a better picture of where the REAL danger to this team may be.
Scott Lobdell's script is excellent for this issue, even though all the time issues here are just a bit convoluted.  And, it is always (make that ALWAYS) great to see Barry Kitson's artwork here.  Finishes were provided by Kitson along with Art Thibert, Jesus Merino, and Scott Hanna, and colors were handeled by Pete Pantazis.   There's a lot more coming in Teen Titans – the stage is being set for several critical storylines.  This story was good overall, and I'm looking forward to what happens as we pick back up in issue #24 with the trial of Bart!
Share