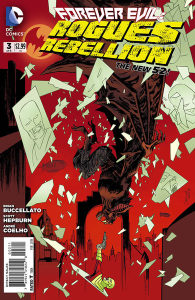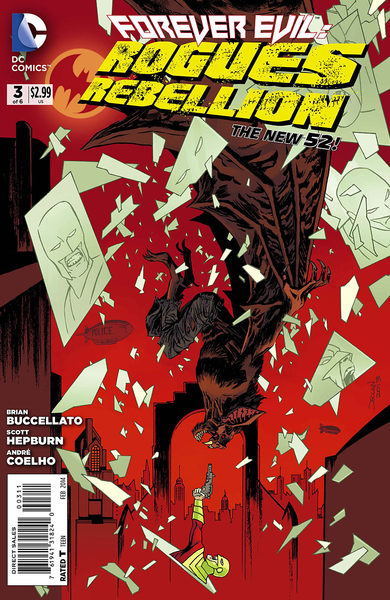 Captain Cold has been stripped of his meta powers thanks to Deathstorm of the Crime Syndicate, and the rest of the Rogues are on the run!  As they find themselves in Gotham City, what will happen when one iconic group of Rogues meets another?  That's the premise for this third issue of Rogues Rebellion, scripted by Brian Buccellato!
LIGHT SPOILERS ONLY
Mirror Master's powers haven't been working exactly right lately, so at first our Rogues have no idea where they are.  But, Poison Ivy is more than willing to "welcome" them to Gotham in her own unique way.  There is a bounty on the Rogues' heads, a fallout from their refusal to go along with the Crime Syndicate's plans for Central City's destruction.  But, Ivy has other plans for them involving the need for sunlight for her favorite green things…and a threat that one of the Rogues could die if they don't help Ivy in her quest.  This is a great story that highlights Mirror Master and his attempt to step into a leadership role with both of the Snarts out of action.  So far in his career he has been content to "be the one reflecting" others…can he become the one who "lights the way" now?
This is more than a "Flash Rogues vs. Bat Rogues" story – it highlights the vast differences between Central City and Gotham, though from a Rogue's point of view.  The Rogues may be crooks, but they aren't up to the level of pathological thinking of the villains in Gotham.  And, there are some heartbreaking moments here, including when we realize what was happening just the day before the Rogues became meta.  Brian Buccellato has scripted another excellent story here.  The artwork does have some differences in the pencil styles of Scott Hepburn and Andre Coelho, but the differences seemed to work well with the scene changes and each did a good job with their pages.  Nick Filardi handled the colors well throughout.  I keep saying this…I wish that Rogues Rebellion was an ongoing series.  This is a great storyline, and the only real shame is that this is a mini-series that has to end all too soon.
Share