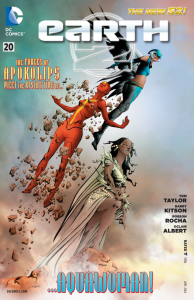 Not all hope is lost yet…there are new friends, new allies…and some welcome sights.  Still, how do you fight a Superman who has gone so completely over to Darkseid?  That's where we pick up in this latest issue of EARTH 2!
LIGHT SPOILERS ONLY
The Aquawoman of Earth 2 has proven herself more than capable of taking on Parademons, and while she won't join the fight full time…at least not yet…she remains a friend and a more than willing ally in this fight.  We also have Red Arrow, otherwise known as…Connor Hawke!  Meanwhile, the Red Tornado (Lois Lane) tries to get the help of this new Kryptonian, in the process explaining her belief that there is still some good left in Superman.  What she doesn't know is just how far Superman is going, right at that moment, to move Darkseid's agenda forward!
Tom Taylor continues to write an excellent story, this time centering on the mysterious new Kryptonian.  (Just a note…Val is "one of four" sent to Earth 2 before the destruction of this version of Krypton…okay, we have Superman, Supergirl of Earth 2 (Power Girl), this guy, and……?)  The artwork is by a Flash-fan favorite Barry Kitson with Robson Rocha and Oclair Albert, with Pete Pantazis on colors.  Obviously for our purposes here at SpeedForce we'd love to see a return to some action for Jay Garrick…but in the meantime this is a truly gripping, well-written and well-illustrated tale.
Share