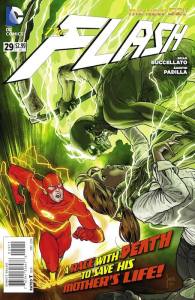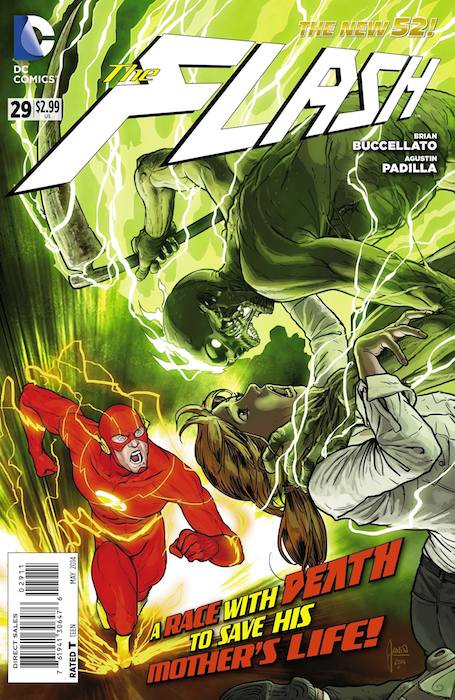 We finally come down to one last secret to be revealed as Brian Buccellato bids a fond farewell to The Flash and heads off into the Gotham sunset.  Barry is tracking down the Keystone Killer, but there are other powerful secrets that will be unearthed along the way in this exceptional issue of THE FLASH.
LIGHT SPOILERS ONLY
When we last left The Flash, there was a room full of dead people and the weapon in the hands of Director Singh!  The good news is that Singh didn't do it…but the bad news is that Darryl Frye has left the scene to take on the spirit of the Keystone Killer personally!  This issue is as much about Barry Allen and his training as a crime scene investigator as it is about The Flash.  As he tracks down both Darryl and the Keystone Killer, DNA plays a very important part of the story – with some very interesting revelations.  To get the rest of this tale, you'll need to grab FLASH #29.
Buccellato's script takes us back to the core of Barry himself – the inquisitive kid who grew up to be a police scientist, the basic good guy who represents hope in spite of the tragedy in his life.   Agustin Padilla's pencils/inks and Matt Hollingsworth's color were excellent for this issue.  The running sequences seemed to be a mix of Manapul and Infantino…and it worked really well.  And, the Keystone Killer was rendered amazingly well.  This is the last issue for Brian Buccellato as he and Francis Manapul move on to DETECTIVE COMICS (due out next week).  Anyone who has read my prior reviews knows that I'm a big fan of M&B – and this was an excellent issue to end the run.
Share