Following back-to-back weeks with new Flash issues hitting the stands, the new writing team of Van Jensen and Robert Venditti sat down with Newsarama last week to talk about some of the major introductions made and threads introduced.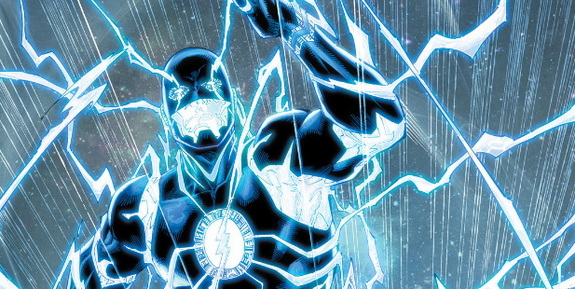 Be warned, the two go into some spoiler-level detail if you have not read the last couple issues.  For more on Wally West, his parents, Future Flash and more, follow the jump!
On the impact of "Forever Evil" on Wally West and his family, plus his view of both Flash and Barry:
Venditti: That's had a very personal effect on Wally, in the sense that his mother had gone missing during Forever Evil, and then he's part of this enormous police backlog, where the force is trying to get itself up and running again after this as well. You can imagine the number of open cases there'd be. And they're still coming in. They don't even know what they all are yet.

Then on top of that, Wally coming from a background where he's somewhat estranged from his father, which is in keeping with original Wally continuity — you know, he really looked up to his Uncle Daniel, who the Flash ended up putting in prison.

So in some ways, Wally's the 12-year-old kid who's had a bit of a rough go, and he's trying to cope with it as best as he can, and he's sort of lashing out in this way, almost like a form of protest against the Flash.

Jensen: One of the things that's really neat about the relationship with Wally is that — and this is true of a lot of characters — that Barry has different relationships with the same character based on whether he's in costume or he's out of costume, and that's something we're going to explore a lot, especially with him and Wally.
On comparisons to various Robins:
Venditti: I'll say this, in response to the Jason Todd and the "brat" thing and all that: I think it would be really harsh to label Wally as that, given all that he's been through — again, Forever Evil, mother missing, uncle ended up becoming a criminal and getting locked away, estranged from his father — I mean, "brat" would be a harsh label for that…

But in terms of the kind of character that he's going to become, I think that's a large part of what we're trying to do. We are showing you these Future Flash sequences where you see, obviously, Wally ended up having a very, very close relationship with Flash again, which is something that I think fans are accustomed to, but it's a matter of how he got there…How that relationship goes and how we come from this place now, where Wally isn't exactly happy with Flash, to growing into somebody to whom Barry will end up becoming very close, is what we'll explore, as Van was saying earlier.

Jensen: Much of it looks like this straight road from Barry and Wally meeting and being at odds, to eventually them having a strong relationship — but there are a lot of wrinkles along the way that are going to come up.
On Flash's "lost time":
Venditti: You'll definitely find out what exactly is going on with the Speed Force, and why Barry is having problems losing time. That's a central mystery of the whole first arc that we're going to be doing. So those answers are going to be hinted at more and more each issue, and the resolution of all that, we'll see very soon.
On the "I'm the reason Wally isn't 32 and married with two kids?" quote:
Venditti: [Laughs.] That was my line. It's taken on a bit of a life of its own, which is completely unintentional. I have two kids, so yeah, I wrote that line.

Nrama: So wait, you said unintentional? I mean, Barry is the reason, because of Flashpoint. Was that in your mind when you wrote that?

Venditti: Not even in the slightest. It was more of that sort of, just … average home life, U.S. Census Bureau data, you know? Married family, two kids, white picket fence, dog — that sort of stereotypical description.

And like I said, me, myself, I have to kids, and it was just like, "oh, two kids."

Jensen: Yeah, I can never overstate how little Rob knows about past continuity, at some point.
For much more, including the personality and motivation of Future Flash and the West family dynamic, check out the full interview at Newsarama!
Share