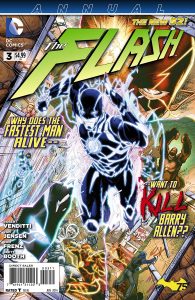 This Annual gives us an intro to a very much alive Wally West…and it throws in another very familiar name as well…as Venditti and Jensen set the stage for the "Future Flash" arc with a shocking turn for Barry Allen.  Something is very wrong with the future Barry…
LIGHT SPOILERS ONLY
We meet Wally West as he tags a building with a sentiment that is unfortunately very popular among Gem Cities residents – spray painting a circle and slash over a Flash symbol.  After all, the citizens of Central City were hit especially hard by the Crime Syndicate at a time when their hero was nowhere to be found.  Barry stops him, and Wally is taken into the local police station, where Iris comes calling to get her nephew. As it turns out, Daniel is not Iris' only sibling, and her older brother Rudy is Wally's father.  But, Rudy ran off a long time ago and Wally's mother disappeared when the Crime Syndicate hit town.  Add to that the fact that Wally had looked up to his Uncle Daniel (and is still mad at the Flash for sending Daniel to prison)…and we have a young man in desperate need of a positive influence.  Barry and Wally somehow manage to connect briefly…at least enough to keep Iris from learning just who caused Wally to be arrested.  But, Barry has a lot more on his mind, both now and in the future.
It seems that whenever Barry uses his powers, he loses time.  This actually fits with Einstein's theory…and here, traveling at the Flash's speed causes a surprising difference in time for the Barry and for everyone else.  We're starting to see that play out now, and it has very dire omens for the Future Flash…speaking of which…
Future Flash and future Grodd have a battle with serious consequences…and interesting revelations as a name is thrown out that will be VERY familiar to Flash fans.  What happens next is a shocker…but for more you'll need to grab the issue.
Wally fans will need to wait a bit more to see his full personality emerge – but he is very much alive here and hopefully will remain so at the end of this arc.  For those who are flashing back to Jason Todd stealing the tires off the Batmobile, I get it…but there is an important difference.  Wally isn't a thief, and doesn't appear to have a serious prior record.  He is (however inappropriately) expressing the same frustration that a lot of people in the Gem Cities have right now when it comes to the Flash.  And, his reaction to Barry at the police station gives some hope for what could lie ahead…if Barry can keep Wally alive, that is.
Robert Venditti and Van Jensen have some big plans for the Flash, and we're starting to see just how far they are willing to take Barry.  There will be a bit of timey-wimey confusion here with the Future Flash coming back to prevent his own timeline…and in the end some of what we've seen in this issue (and in issue #30) may turn out to have never happened once things are set right.  Still, it is a daring start to this arc, and if nothing else I'm glad to see this team willing to take chances.  The art is divided by time lines, with Brett Booth and Norm Rapmund handling Future Flash, and Ron Frenz and Livesay taking on the present timeline – with Andrew Dalhouse handling colors all around.    There were a couple of panels for the present-day Flash that reminded me of Wally's running style – no problem there, just a little nod to prior days.  And, the artwork for Future Flash is amazing in it's detail and execution.
This is an issue that will definitely create a lot of discussion – but there is still much of the story that is yet to be told.  I'm hanging on for the ride here, to see what Venditti, Jensen, Booth and Rapmund have in store for us.  The final verdict on this annual will be told in the way the arc turns out…hopefully we will look back on this one as a must-have collectible.
Share