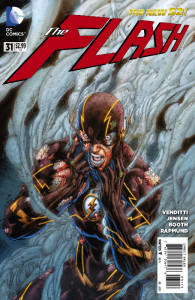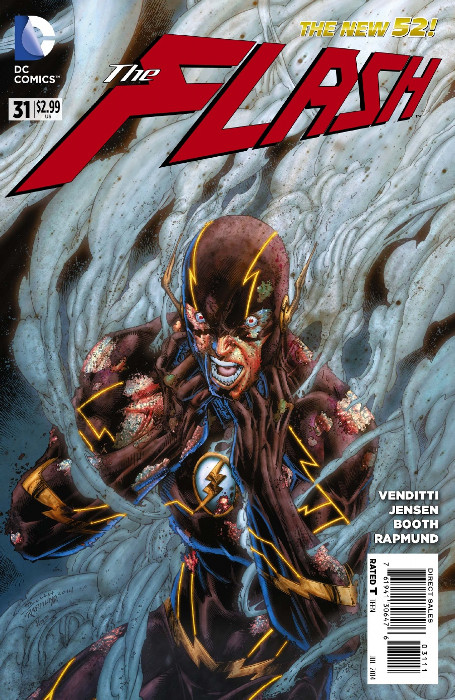 The Future Flash is coming…but he has a few stops to make along the way.  He's already killed the Future Grodd…what more does he have planned before meeting himself in the present?   That's where we pick up in THE FLASH #31!
LIGHT SPOILERS ONLY
In the present someone who looks a lot like the villain Black Mold kills another crook…but is it really Black Mold?  It doesn't seem so…but the answer lies in part in the ransacked evidence room of the CCPD!  Present Barry continues to lose time, a few minutes here and there, as he struggles to keep his meeting with Wally.  Sixteen years from now (instead of twenty as in last issue), we find that Future Barry has a plan to stop a tragedy involving another member of the Rogues…but just how far will he go to change his past?
In Robert Venditti and Van Jensen's script, we get a little more of the picture concerning this New 52 Wally West.  Wally doesn't know that his uncle is the Reverse Flash – he just knows that the Flash put his Uncle Daniel in jail, and that the Flash was not around to help his mother when the Crime Syndicate hit town.  That would obviously influence Wally's opinion of the Flash, but we'll see more of that story in future issues…along with wherever Barry's friendship with Iris may lead.  More chilling is their depiction of the Future Flash.  This version of Barry is a broken man, one with a very different view of what needs to be done than the Barry we know.  It is shocking to see what Future Barry is capable of doing, but that's the point here (as an aside, it may remind you of an accusation leveled against the Flash in an earlier New 52 arc, but the two tales are not truly connected).  And, by hopping backward a few years at a time we are getting an even bigger buildup to the eventual Barry v. Barry fight.   As for the artwork? I'm enjoying what Brett Booth (pencils), Norm Rapmund (inks) and Andrew Dalhouse (colors) are doing here.  I'm getting into the Barry-with-a-vest look, and I loved seeing Barry in that Blue Lantern T-shirt.  In the end, Venditti, Jensen and company are bringing us the ultimate Flash foe…the Flash himself…and I really want to see what happens next.
Share