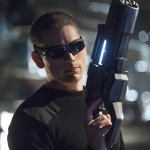 There's been a lot of new casting information about the Flash show over the last few days, and it's hard to know where to start! Some of the details are arguably spoilery, so they're behind a jump.
The Pied Piper's casting was announced today, and he'll be played by Broadway Les Miserables actor Andy Mientus. As reported by TVLine, Piper's described thusly for the show:
One of DC's original Rogues, Hartley is a bona fide genius who used to work at S.T.A.R. Labs until a falling out with his mentor, Harrison Wells. The particle accelerator robbed Hartley of his hearing, but inspired him to create a series of sonic weapons that he uses in an effort to punish Wells by destroying his new protege: The Flash.
Variety reports that Victor Garber has been cast to play Martin Stein, who is best known as one half of Firestorm. For the TV series, Stein is described as a "brilliant but arrogant nuclear physicist who has sacrificed everything, including a marriage, for his work in transmutation. After he discovers the particle accelerator fused him with the younger, more impulsive Ronnie Raymond (Robbie Amell), he races to find a way to separate the two before it's too late."
Garber has a very lengthy resume, and has appeared on such shows as Alias and Flashpoint.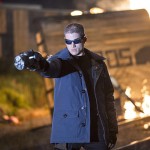 Finally, this week we got our first look at Wentworth Miller as Captain Cold. Geoff Johns posted them at his Instagram account, and you can also see them here in this post. He's not wearing the traditional visor, but he does have a hooded parka with a fur trim (it's difficult to see the hood and trim in the second photo, but they are visible). I'd imagine the tinted goggles serve a similar purpose as the visor, so his eyes aren't going unprotected.
What do you think of Cold's new look for television? Are you excited about the casting announcements?
Share