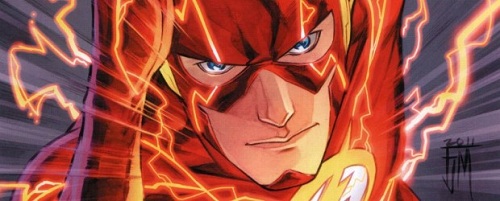 The Flash TV show is here! Can't wait for more? You're in luck: there are decades worth of comics that you can read right now. But where to start?
We've got some recommended reading for The Flash, focusing on comics that are available digitally and in book form to make them easier to find.
DC offers digital comics through a number of portals including ComiXology, which has apps to read your comics on your tablet (iPad, Android and Windows), phone, or computer. You can also go through the Kindle, iTunes, and Google Play stores.
You may want to take a quick look at our 5 differences between the TV and comic book Flashes before continuing.
Flash: Season Zero
Currently running, and just started, this digital comic book is set in the same world as the show you just watched. New chapters go up twice a month on Mondays for 99 cents each, and the current story is set between episodes 1 and 2.
Read Flash: Season Zero digitally on ComiXology
Move Forward and Rogues Revolution
The first two collections of the current "New 52" Flash introduce the latest versions of the hero and of the Rogues and other villains. Move Forward centers on Mob Rule, a villain who can be literally anywhere. Captain Cold, Heat Wave, Weather Wizard, Glider, Turbine, Mirror Master, and Gorilla Grodd are all (re)introduced here. Francis Manapul and Brian Buccellato provide both the writing and most of the art.
Move Forward on Amazon
Move Forward on ComiXology
Rogues Revolution on Amazon
Rogues Revolution on ComiXology
The Dastardly Death of the Rogues
When one of the Rogues turns up dead, the Flash is wanted for murder by a time traveling "hero" team that looks a lot like future versions of his enemies. This story sets up a lot of the current dynamics at the Central City crime lab. Geoff Johns (writer), Francis Manapul and Brian Buccellato (art).
The Dastardly Death of the Rogues on ComiXology
The Dastardly Death of the Rogues on Amazon
Flash vs. the Rogues
A book collection of classic short stories from the Silver Age of Comics. The Flash's early encounters with Captain Cold, Heat Wave, Pied Piper, Weather Wizard, and more, including the first proper team-up, "The Gauntlet of Super-Villains."
Flash vs. the Rogues on Amazon
Some stories on ComiXology. Not all of the stories in the book are available digitally.
Rogue Profiles
During the time Geoff Johns wrote The Flash, he would occasionally take a break and spotlight one of the villains for an issue. Since Johns is heavily involved in the show, count on these stories to at least inform the versions of the characters we see. You can get the individual issues through ComiXology:
Flash (1987-2009 series:)
Captain Cold: "Absolute Zero" Flash #182
Pied Piper: "Rat Race" Flash #190
Zoom II: "Rogue Profile: Zoom" Flash #197
Mirror Master II: "Mirror, Mirror On the Wall" Flash #212
Heat Wave: "Rogue Profile: Heat Wave" Flash #218
Flash (2010-2011 series):
Captain Boomerang: "What Goes Around, Comes Around" Flash #7
Professor Zoom: "The Reverse-Flash: Rebirth" Flash #8
Other One-Shots
Flash #54 (1987-2009): "Nobody Dies." Widely regarded as one of the best single-issue stories starring Wally West. The Flash can't fly, but he jumps out of an airplane anyway to rescue a falling flight attendant. He'll think of something on the way down, right? By William Messner-Loebs, Greg LaRocque and Jose Marzan.
Flash #30 (1987-2009): "A Shot in the Dark." A shooter opens fire in a crowded movie theater, and the Flash has to find all the bullets in the dark. A good one for seeing the perspective of super-speed. By William Messner-Loebs, Greg LaRocque and Jose Marzan.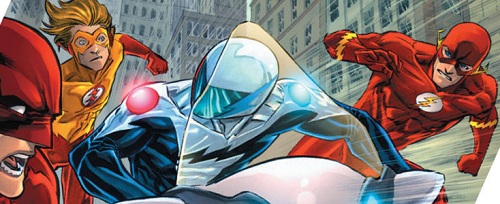 Advanced Class
Flash: Rebirth
This drops you into the deep end of Flash mythology, as Barry Allen has just been brought back to life years after his death, and just about ever major DC Comics speedster is involved. The Reverse-Flash has found a way to make Barry's return the worst thing that ever happened to him. Geoff Johns and Ethan Van Sciver.
Flash: Rebirth on Amazon
Flash: Rebirth on ComiXology
Wally West: The Fastest Man Alive (Mark Waid)
Flash (1987-2009) #62-161: Mark Waid and Brian Augustyn, with many artists, defined Wally West as the Flash. Some of the best stories include "The Return of Barry Allen" (#74-79), "Terminal Velocity" (#0 and #95-100), "Dead Heat" (Flash 108-11 and Impulse #9-11) and "Race Against Time" (#112-118). The book collections are out of print, but the whole series is online.
Wally West: Protector of Keystone City (Geoff Johns)
Flash (1987-2009) #163-225: Geoff Johns with Scott Kolins/Doug Hazlewood (first half) and Howard Porter/Livesay (second half) made the city and villains a priority, laying a lot of the groundwork for what would become Johns' signature focus on the police force and Rogues. If you're new, the place to start is with "Blood Will Run" (#170-173) or "Rogues" as he starts reintroducing classic villains and setting up new ones. Everything builds to an all-out battle in "Rogue War" (#220-225), which stands a good chance of hooking you on the character.
The paperback collections of this run are also out of print, in favor of three giant hardcovers (the kind that you set on your coffee table and hope it doesn't break), but again they're all available digitally.
Barry Allen: The Silver Age
The classic 1950s and 1960s stories aren't available online except for a few of them [Update: DC started releasing them digitally in late 2014!], but DC has several reprint lines. I'd recommend picking up Showcase Presents: The Flash vol.1. It's a black-and-white newsprint collection you can get for under $20 filled with 400 pages of the earliest Barry Allen Flash stories. The Flash Chronicles Vol.1 is a lot shorter, but printed in color. Both include a lot of the earliest appearances of the major Flash villains, and both will give you a sense of the Silver Age Flash and whether you want to pick up the more expensive, higher quality collections.
Showcase Presents: The Flash, Vol. 1
The Flash Chronicles, Vol. 1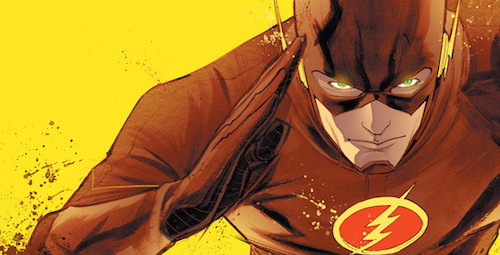 And there you go! I hope you enjoy reading about the Flash. And be sure to check out some of these other recommended reading lists for the Flash:
Thanks to Lia, Greg and Ed for their suggestions!
Share