I was fortunate enough to be at C2E2 this weekend, and wanted to share a few quick pics and memories with you.
Pics and notes after the jump: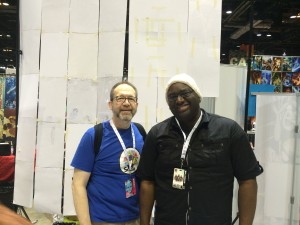 I met Andrew Dalhouse at Artist Alley. The present colorist for The Flash is an exceptionally nice guy besides being exceptionally talented. He gave me an autographed print that was very cool – honestly, my picture of the print (below) doesn't do it justice.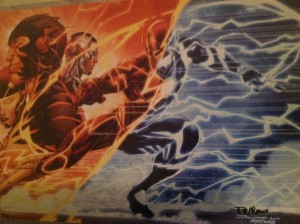 ………………………………………….
I also met Phil Hester, who among many other things provides the artwork for the digital series FLASH SEASON ZERO. Hester is looking forward to writing an upcoming chapter of the series as well, and is enjoying working with the producers of the TV series in making the book.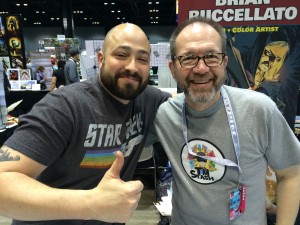 I also had the opportunity to interview former FLASH co-creator Brian Buccellato (CLICK HERE) about his upcoming project at Image called SONS OF THE DEVIL (coming to your local comic shop soon), and about other projects as well. I've since the early days of the New 52, and it was a real pleasure to finally meet him in person.
……………………………………………………………..
I'm also including a few Flash-related pics of cosplayers from the con. There were a lot more, but they were all going to fast to grab a picture (pardon the pun, but actually true). GREAT cosplays everyone!
We did a lot of live-Tweeting during the panel discussions. You can look at my Tweets @xBarryxAllenx to see some of those from a couple of the DC Panels.  The big news from DC was actually at the end of a panel on Friday – that DARK KNIGHT III is going to happen with Brian Azzarello working with Frank Miller. A lot of the rest of what's coming was closely guarded, with only a few snippets here and there. Still, it was a great con!
That's it from C2E2 – definitely going to try to make it there again next year!
Share