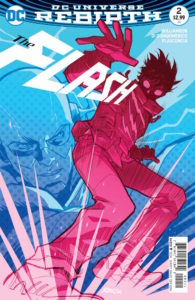 There's a new speedster in town…just one? Okay, maybe more than one as both young Wally West and August Heart discover more about their own powers. Barry is having fun being a mentor again. Iris is being awesome again…and what more can you want? Okay, how about a new danger on the horizon? Joshua Williamson has an amazing arc going, and this old Flash fan is having a GREAT time reading it so far…and if you want to know more, just follow us after the jump!
SPOILERS AHEAD!
August Heart has been touched by the speed force and has gained what appears to be the same powers as the Flash. Barry is training him, and the training sequence is handled exceptionally well by artist Carmine Di Giandomenico with excellent color work by Ivan Plascencia. Just a note here – with two issues in I'm really getting into the art style here. It is different from what we've seen in recent days, but the art is consistently good and the style works, at least for me. Iris really comes across well in this book, in fact all the characters do, with good expression and some really cool effects for the action sequences.
Of course, there is another speedster…young Wally West, who is enjoying his speed but is hiding it from everyone just now. He has good reason…the fear of worrying his Aunt Iris after his Uncle Daniel had turned into the Reverse Flash. As for Iris…
Iris West's investigative skills are highlighted here…and of course it gets her into some temporary trouble as the Flash and…whatever name August will eventually use…come in to save the day. All that being said, Iris is no shrinking violet and no mere damsel in distress…and that's a good thing. Iris is coming back in this REBIRTH era as an amazing character in her own right…and as a long-time Barry-and-Iris fan, I'm enjoying every moment of this.
The trouble that Iris had gotten into concerns a Dr. Carver…and he looks to be the big bad of this arc. His plan results in the HUGE ending splash page…as we get into the real meat of this arc.
NOTES: Joshua Williamson really seems to get Barry Allen…and not just Barry but all the characters we've seen so far in this arc. We get a Barry we can truly cheer for, and a story with a scope big enough to be a challenge for the Fastest Man Alive…without leaving a world where Barry Allen makes sense. Williamson has the chops for any story, whether horror/noir as in GHOSTED, sheer terror as in NAILBITER, or in a knock-your-socks-off superhero story as in THE FLASH. I'm truly enjoying this story so far, and I cannot wait to see what the next issue brings. The artwork has won me over as well, and this looks like a great time to be a FLASH fan! Another 10/10 issue!
Okay, enough gushing from me…what do YOU think? Leave your comments below!
Share