We've been waiting all summer for this…the third season debut of THE FLASH! When we left season two, Barry had run all the way back to that pivotal moment in time to save his mother.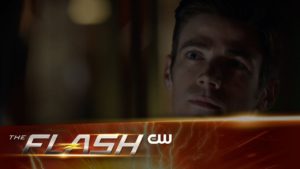 We knew there would be consequences…and with an episode titled "Flashpoint" we knew everything would be different. What does the TV version of the "Flashpoint" world look like? How awesome is this episode? Want to learn more? Follow us after the jump!
NOTE: This review is being posted prior to the airing of THE FLASH on the West Coast of the US. If you haven't seen the show yet….PLEASE wait until after you see the show to read on!
SPOILERS AHEAD!
We begin with a recap of how we got here…then move to the new reality where Barry has never met Iris. He's getting ready to remedy that when the news breaks that Kid Flash (!) is battling The Rival. Barry speeds off to join in, but realizes that he may not be needed…and that's just great with him.
Everything in the early part of the episode leads Barry to believe he's made the right choice. His parents are alive and deliriously happy (though they are ready for him to grow up and leave the nest). He gets a date with Iris, and there is a speedster in a yellow and red suit who seems to have things under control. Thawne is trapped in a cage that keeps him from escaping, but that doesn't keep him from trying to get under Barry's skin.
Thawne knows that everything has changed…but he knows something more. The more Barry uses his speed, the more memories he will lose…and if that continues this new "Flashpoint" world (Thawne's term in this show) will become fully cemented in place.
Barry wants nothing of that, even though things begin to show that aren't so pleasant. Joe West appears to be an alcoholic in this existence. Cisco may be the world's richest man, but he's a real jerk. Caitlin is a pediatric ophthalmologist, though she does play a role in parts of the effort to stop the Rival. And Wally?
Oh yeah, Wally is Kid Flash…of course!
In this Flashpoint world, it's Wally who gains speed. He wants to be known as The Flash, but his sister Iris named him Kid Flash in the papers – and she is helping him in his crime-fighting efforts. Cisco did contribute the uniform but wants nothing more to do with stopping bad guys.
Eventually, Barry realizes what he is losing…his memories from his life before…and then things go from bad to worse. They do eventually stop The Rival (named Edward Clariss, just like in the comics)…but Wally looks to be dying. Barry eventually realizes that his happiness is coming at the expense of almost everyone and everything else.
The one good thing…besides seeing his parents? Iris in this reality realizes what she and Barry meant to each other. They do share a moment…then go to visit his parents one last time. All that's left is to "make things right"…by letting Thawne loose to kill Barry's mother!
The scene that follows is every bit as intense and frightening as you could possibly imagine. What follows leads us back to…no, not the New 52 (though there was a report from "News52" at the beginning – thanks to Joe "Geronimo" Gagel from TMStash.com for pointing that one out to me). But, it's not last season's continuity completely intact either.  Thawne foreshadows that when he leaves Barry at the West's door…and when Barry goes in he learns that Iris and Joe don't talk anymore (?!)
In the epilogue, Edward Clariss is being told "time to wake up" by….someone scrawling the world "Alchemy" on a nearby mirror….YES! It looks like we are already getting ready for some "Big Bads" for this season.
SUMMARY: This was a great visit to a "Flashpoint" world…and handled in just the right way. Once again we get to see this outstanding ensemble cast portraying alternate versions of their characters flawlessly. The core of each character is still there…but you see the significant ways their now-different life experiences have affected them.  This episode avoided the easy traps that could have turned "Flashpoint" into a gimmick – no attempts to stretch the alternate "Flashpoint" timeline into multiple episodes, and yet we still realize there are consequences to changing the past. Not everything will neatly fall into line, and we are only beginning to see what that means. Here's where we know we are…Thawne is still alive and still has his speed. The Rival is being called to "wake up" by what we presume to be Doctor Alchemy. There is a very different dynamic in the West family, for reasons we have yet to learn. And…we have the beginning to another amazing season of THE FLASH!
For this Flash fan, it was the perfect beginning to Season Three – it more than lives up to every expectation, and this reviewer cannot wait for what is coming up next!
That's my take – what do YOU think? Leave your comments below!
Share