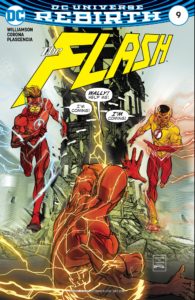 This is an issue that I want to give a 10/10 just for the reveals…and there is SO much more than the two Wallys meeting here. No issue can have the impact of the original "Flash of Two Worlds", since that story introduced us to what we now know as the Multiverse. But, "Kid Flash of Two Worlds" still should be fondly remembered as we go forward for what this story DID give us…want to know more? Just follow us after the jump!
SPOILERS AHEAD
Let's call the younger Wally "Teen Titans" Wally, and the original Wally just "TITANS Wally"…hopefully that will help as we go through this review.
The plot is easy enough to sum up…Flash and "Teen Titans" Wally go to save people from a bridge accident when TITANS Wally shows up to help save the day! Both Wallys get time alone, and TITANS Wally and Barry have some important talks as well…but I'm not sure the plot is the point for this issue. Let's get to the reveals here:
-"Teen Titans" Wally learns that "Uncle" Daniel, the Reverse Flash of the New 52, is really his father. The way he learns that is something we'll talk about in a moment, along with how he deals with this news.
-"Teen Titans" Wally is friends with someone named…Chunk! No word as to any meta-human qualities for this returning character, but this former friend of TITANS Wally is at least returning to continuity, and that's a welcome sight.
-"TITANS" Wally tells Barry about Abra Kadabra and the Titans (I'm assuming this story is set in continuity after the current TITANS arc is resolved).
-Barry lets Wally know that whatever Abra Kadabra is doing, he's not the real force behind all the changes…which of course may lead us back to those potential Watchmen ties
and there's one more reveal, but we'll get to that in a moment.
When the two Wallys shake hands, something happens to the Speed Force, and it nearly drags Barry in. While he fights that, several things happen as he "loses heart", more like losing himself in the Speed Force. This is when he reveals that Daniel is "Teen Titans" Wally's dad. He also says some things he certainly regrets to TITANS Wally. Barry sees a vision of Zoom telling him he will always race alone…
…and there's that last reveal…but let's wait just a moment more.
After learning about his dad, "Teen Titans" Wally runs off.  TITANS Wally catches up and they talk about the situation without revealing who TITANS Wally really is. After a brief (possibly too brief) talk, "Teen Titans" Wally seems better..and this may be the only real flaw in the story. This part was resolved awfully fast. Still, the rest of the story was really good…and then there's that last reveal.
While Barry was (almost) lost in the Speed Force, he had one last vision, one that filled him with hope…
It was a silver helmet with wings…the Golden Age Flash's helmet!
That gives this old Flash fan some hope as well, that we may see a return of the classic versions of the Earth 2 JSA. Just a note – I really have enjoyed the New52 versions of the Earth 2 heroes…but I still miss the versions I read about as a kid. Let's see where this takes us.
SUMMARY: This was an interesting mix of a story. We have a fairly simple plot, laced with HUGE reveals.  This issue isn't so much about the immediate story as it is about setting the stage for the next year (or more) of tales, and it does that very effectively. Whatever minor flaws may exist (such as "Teen Titans" Wally recovering so quickly from learning about his dad), the overall story with the big reveals easily make up for that. Thanks to Joshua Williamson for a critical chapter in the life of THE FLASH family, and to Jorge Corona for the artwork (with colors by Ivan Plascencia).
I absolutely enjoyed this issue of THE FLASH – what do YOU think? Leave your comments below!
Share