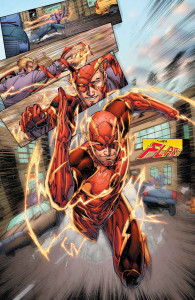 DC has an eight page preview of the post-Convergence direction of the Flash in which we see Barry Allen's new costume, his new living situation (with a surprise roommate), plus a reminder of his family history…which looks like it may be important, now that Professor Zoom (the Reverse Flash) is back — and the Professor has brought his students along.
I'm not sure if this is part of the upcoming The Flash #41 or if it's an independent preview.
According to Brett Booth on Twitter, this is a stand-alone preview that is not part of The Flash #41.