Comics Should Be Good has completed their list of the Top 75 Most Iconic DC Covers as voted on by the site's readers, and the Flash has made a solid showing!
#73. Flash Comics #1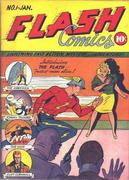 1940. The first-ever appearance of the Flash, starring Jay Garrick. Also, the first time the Flash catches a bullet. Homaged by Impulse #84.
(Tied with Green Lantern #73.)

Read on to see 8 more covers. Continue reading →