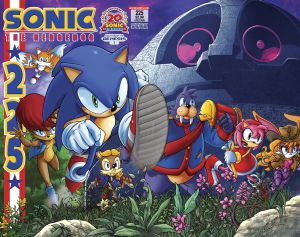 Video game character and Sega mascot Sonic the Hedgehog turns 20 this year, and his comic book will be celebrating with a special 20th anniversary issue in #225.
Archie Comics' press release notes that Sonic is "the longest running continuously published licensed comic of all time" and holds the record for the "longest running video game inspired comic." It's also the longest running comic book about a speedster not named the Flash. Second place is Impulse at 90 issues (including #1,000,000). (Admittedly, there aren't many to begin with.)
In fact, since DC has relaunched The Flash several times, Sonic may actually take the #1 spot in a couple of years, measured by number of continuous issues. The current records are:
Flash vol.1: 246 issues (#105-350)
Flash vol.2: 232 issues (#1-230, #0, #1,000,000)
Flash Comics: 104 issues (#1-104)
With #225 coming out this summer, they're only months away from passing Wally West's series, and will pass Barry Allen's just two years from now!
Sonic the Hedgehog #225 hits comic shops on June 1, and newsstands on June 7, 2011.