Some linkblogging for the end of the week:
Flash Features
Comics Alliance has a huge interview with Geoff Johns in which he talks about the emotional bases of the characters he's writing, particularly the various Lantern Corps in Blackest Night. At the end he talks a bit about the Flash, and speed, and how easy it is to get caught up in wanting to do more, faster.
Crimson Lightning is running a casting poll for the Flash movie. At the moment, Neil Patrick Harris is the clear leader. Stop by Crimson Lightning and check in with your vote!
Flash writer Geoff Johns and soon-to-be Kid Flash writer Sterling Gates top this list of top five favorite comic writers right now.
A bit old, but I'll blame the fact that I was at Comic-Con when he posted it: A Spanish Flash cover set Kaiser the Great to thinking about Flash v.1 #346 and how it sparked a drive to collect the Silver-and-Bronze Age series.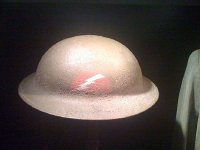 Related to the Flash helmet, @ValVictory made an interesting find at the Seattle Museum of Flight.
Wider World of Comics
Grumpy Old Fan looks at DC's line-up and categorized its titles into three groups: "foundational" books that have been around more-or-less continuously since the Silver Age like Superman, Flash, Batman etc., "historical" books that run for a while, get canceled, then keep coming back like Teen Titans or Outsiders, and "new" books that come out of nowhere and disappear a few years later.
IO9 asks, what's with all the undeath in superhero comics?
CSBG's one-paragraph reviews include Flash: The Human Race.
Topless Robot has a photo of Two Dozen Awesomely Nerdy Cupcakes topped with symbols for the Flash, Ghostbusters, Autobots and Decepticons, Captain America, the Galactic Empire, etc. (via Robot6)
Indie Pulp: Mark Waid's Irredeemable Ways.
The Weekly Crisis has launched a side project (with oddly-familiar initials 😉 ): SpiderFail.org, inspired by a mention in Amazing Spider-Man #601.
Added: Artist Cliff Chiang posted a tribute to recently-passed director John Hughes in the form of a Teen Titans homage to The Breakfast Club. (via @Robot6)
Added: The John Ostrander benefit auction at Chicago Comic-Con is tomorrow. If you're at the con, consider checking it out. If you're not at the con, take a look at the website: it's got a huge gallery of artwork that's been donated for the auction.