Hey Speed Readers,
A few days ago, Actionfigureinsider.com gave us our first look at the Mattel San Diego Comic-Con 2011 exclusives. Not much for the Flash and other speedsters on the DC Universe Classics front but there will be something a little different for speedster fans.
Mattel has a line of dolls called Monster High based on a concept that tries to appeal to the more macabre little tweeny girls out there by melding Hot Topic with horror. The premise behind them being that the characters are the plastic (literally and figuratively) offspring of famous film and literary monsters. The initial characters were based on the classic Universal Monsters but they have since branched out to include all different types.
Now what does this have to do with speedsters? One of the main characters, a zombie named Ghoulia Yelps is being offered at the 'Con dressed as her favorite comic book character, Dead Fast, the Zombie Speedster: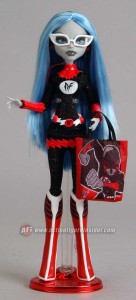 (Picture obviously courtesy of Actionfigureinsider.com)
The Monster High product that will be sold at Comicon is a special Ghoulia Yelps collector doll dressed as Dead Fast. The doll comes with special collector packaging, is dressed in her costume, and also comes with a Dead Fast figure, comic book, and doll stand. See below for the talking points:

• Ghoulia Yelps is the zombie girl at Monster High and being that she is the smartest ghoul in school naturally she is a comic book fan. She's on her way to Nekro Con dressed as her favorite zombie super hero, Dead Fast.

• Once he [Dead Fast] was just a face in the shambling crowd until he was pecked by a radioactive hummingbird giving him the power of super speed! Now he's the zombie super hero Dead Fast!

• You can't outrun zombie justice!

• She comes with a miniature Dead Fast action figure and a Dead Fast fan fic book that she wrote and illustrated herself.
I don't know why but this sounds kind of cool. Little annoying that the "smartest ghoul in the school" is "naturally a comic book fan" but it is still a fun concept. I'm absolutely digging the costume and Silver Age-tinged origin (shades of Stan Lee's re-imagining of The Flash) and I'm actually thinking about keeping an eye out for this in the secondary market.
Here is another picture I found courtesy of Hellyeahmonsterhigh.tumblr.com: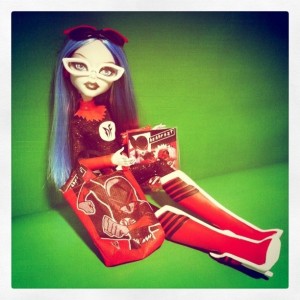 Anyone else plan on taking a detour off the beaten path and picking up Ghoulia Yelps a.k.a. Dead Fast?